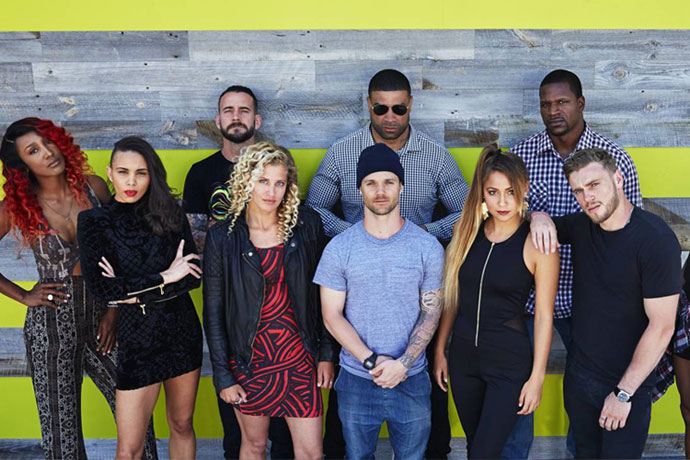 I'm willing to bet that, if you've channel-surfed through MTV sometime in the past twenty years, you've come across
The Challenge
.
I'm also willing to bet that, on certain occasions, maybe when you were by yourself, late at night, with an open bottle of port wine (just go with this), you lingered there, marveling at the pressure-cooker of testosterone and alcohol-driven sexual inhibition that, combined, has created one of the most consistently ridiculous shows on TV.
The Challenge
has been around, in one form or another, since 1998. Last night, it wrapped its 29
th
season. To give you some context, that's one more season than
The Simpsons
, eight more seasons than
The Bachelor
and 29 more seasons than my yet-to-be greenlit reality show documenting the lives of twenty-somethings who work at the world's biggest party hostel (where you at, Bravo?).
The Real World
, which is the feeder system for
The Challenge
, is itself only going into its 33
rd
season this month. I haven't been able to prove this, but anecdotal evidence suggests there are more episodes of
The Challenge
in the world than there are people who actually watch
The Challenge.
Still, as an unabashed fan, I do not think it's an overstatement to call
The Challenge
—a mutant hybrid of
The Real World, Survivor,
summer camp-like competitions and that one night you got wasted and started a fight—America's fifth major sport.
Neither, apparently, do the folks at Grantland (RIP)
.
Apropos: a few weeks ago, MTV announced a six-week special event called
The Challenge: Champs vs. Pros
, which will pit former
Challenge
champs against retired pro athletes. The show premieres tomorrow night. And, oh yeah, NFL Pro-Bowler and stylish man Victor Cruz is hosting.
To say this is the biggest television event since, I don't know,
I Love Lucy
(?), might not even begin to explain my excitement. But unless you're as big a fan as I am—which, doubtful—you probably have some questions.
Thankfully, I have answers.
Just give me a quick overview of what The Challenge is, please, so we can move on to more important things.
The Challenge
began, really, as a competition between the stars of
Road Rules
and the stars of
The Real World.
Though it's undergone many changes, iterations, sequels, what have you—Rivals, Free Agents, The Inferno, Rivals II—the basic formula is almost always the same: a bunch of attractive
Real World
hotheads in a house, gratis booze, an exotic locale, physical competition, a relatively modest cash prize and a political structure akin to
Survivor,
complete with alliances, betrayal and all that good stuff.
Recently, as the pool of
Real World
contestants has dwindled,
The Challenge
has been calling up contestants from
Are You the One?—
And just what the hell is that?
Ten girls and ten guys live in a house in Hawaii, share one giant bedroom and attempt to find their "perfect match," as determined by whatever tests MTV administered to determine one's "perfect match." If they all find their perfect match by the end of the season, they win $1,000,000. Basically, it's a near-genius way—spawned from the world of Internet dating and Tinder—of manipulating pretty idiots into hooking up with each other at an STI-probable rate.
Thanks. As a normal person, is there anyone I might recognize from The Challenge?
You probably know Johnny Bananas (not his real last name), the Michael Jordan of
The Challenge,
who's more or less built his livelihood as a contestant on the show.
This happened to him once
. Also,
he's quite good at giving toasts
.
Why is T.J. Lavin, the host of The Challenge, not hosting this six-week event?
I don't know. What I do know is that former BMX-star T.J. Lavin, who's been hosting this thing for over ten years, is a goddamn national treasure.
He notoriously hates quitters
. He has an unending collection of logo hats and large t-shirts. He is the stern father of
The Challenge
, and the contestants are his children, who, desperate to make him proud, must drink copious amounts of UV Blue to cope with their inevitable failure. Nobody is ever good enough for Teej. Nobody.
Why is Victor Cruz, a veritable NFL all-pro hosting this six-week special event?
Here's an actual quote from wide receiver Victor Cruz,
courtesy of ESPN
: "
The Challenge
is an iconic MTV series that I grew up watching. The sports world is known for producing remarkable athletes, colorful characters, and memorable heroes, but this competition will give my fellow pro-athletes a chance to test their skills against some of the absolute best Challenge Champs, and I can't wait to see how it all unfolds!"
Neither can I, Victor. Neither can I.
So who are the so-called "Challenge Champs" involved in this thing?
Well, there's Johnny Bananas, of course, who's a six-time champ. Darrell, who's won four times. CT, who took home the victory during last week's season finale of
The Challenge: Invasion of the Champs
. Wes, a good swimmer, master strategist and
an investor in BetaBlox
, which is a business incubator in Tulsa, of all places. Camila, aka The Camila-nator, a sassy Brazilian
who's known to get drunk and throw chairs
. Ashley, who's known to get drunk and do...other stuff. And a few others, including one-time Playboy model Veronica Portillo, who first starred on
Road Rules: Semester at Sea
in—wait for it—1999. I was eight at the time, but rest assured if I had a time machine the first place I'd go is my couch a few months prior to Y2K in order to watch whatever shenanigans these guys managed to get up to in international waters.  
Who are the pro athletes participating in this?
Professional surfer Tia Blanco, Olympian Louise Hazel, professional snowboarder Lindsey Jacobellis, Olympian Lolo Jones, former WNBA player Candice Wiggins, professional skier Gus Kenworthy, retired NFL linebackers Shawne Merriman and Kamerion Wimbley, UFC fighter CM Punk and professional snowboarder Louie Vito. (
See them here
.)
Shawne Merriman? He was actually pretty decent. What's his motive here?
Apparently,
he recently sued a teddy bear company
for using his trademarked phrase "Lights Out," so I assume he just wants to push "evil NFL linebacker hates teddy bears" to the second page of Google searches for his name.
I can't help but notice that all these people are pretty attractive. What are the chances of, say, Lolo Jones and CT hooking up? Or Kamerion Wimbley macking on The Camila-nator?
It's hard to imagine pro athletes getting drunk and hooking up with randos on national television. When pro athletes get drunk and hook up with randos, they usually have the courtesy to do it in private, or at a strip club.
But
The Challenge
house can change a person. There is no Internet. There is no TV. There is, however, almost always a hot tub. Oftentimes, you're sharing a bedroom with several people of the opposite sex. It is hot and sweaty and people are working out constantly without shirts. The booze is free and flowing and there's nothing else to do so you might as well get drunk and let loose and make out with the cute guy from
Real World: Paris
, right? Right.
Also, last season witnessed
an all-girl love triangle
involving a Staten Island EMT with a weird peanut butter obsession, a reclusive bully and her former victim,
who administered one of the most infamous back-of-the-bus HJs in reported history
; sexual relations between a guy named Hunter and a girl nicknamed "Smashley"; and an adult who experienced some post-coital bedwetting. So assuming there's a
Challenge
house for this special event, I'd say anything is possible.
This might sound obvious, but won't the pros crush the The Challenge champs? I mean, they were professional athletes. These guys just starred on The Real World and work out.
One would think that, yes. But one would be wrong. Oh how very wrong one would be!
There's a reason the same guys and gals on this show have repeat victories:
they know how to play the game
. A very specific game, sure, involving eating bull testicles and running, high-stakes Soduku puzzles, simple tasks performed at great heights, middle-school-level trivia and calculated backstabbing and rolling heavy objects up hills. But a game nonetheless.
I am so fucking excited.