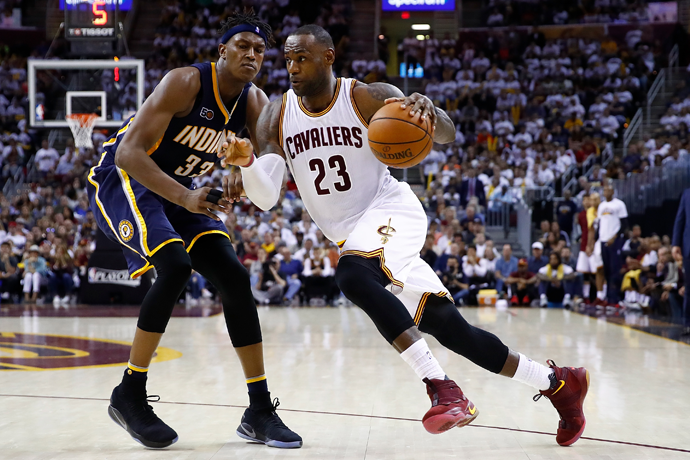 You probably noticed it happening over this past weekend.
All of the hopping. The laying of eggs. And so forth.
Yes, the NBA Playoffs got under way.
Or maybe you didn't notice that at all.
Well, since you're such a busy person and we're helpful internet folk, we've put together this quick primer on what you need to know—and say—about this year's countdown to the seventh annual LeBron vs. Whoever Championship, should you be in the presence of a sports bar/person/ball in the next few weeks.
The Playoffs' First "What If?" Storyline Began Merely 11 Seconds Into the First Game
... of the Jazz-Clippers series, when Rudy Gobert turned a routine pick-and-roll into a pick-and-roll-on-the-ground-clutching-a-knee on the opening play. He left the game, not to return, and it looks like his knee is banged-up enough to miss the entire series against the Clips. And the Jazz still managed to win the game. But that leaves the series very much in the balance without the Jazz's anchor, rudder and lifeboat (Rudy was all of those things—if the Jazz were a large ship). The obvious "what if" happens if the Jazz don't make it out of this round. But let's say they
do
win and get to the Golden State Warriors in the next round. That "what if" grows—and even when the Warriors inevitably beat them, the "what if" gets transferred to them: wouldn't the Warriors have had a tougher second round playing a healthy team? *People like to come up with as many asterisks as possible for the Warriors. **Which is not entirely unwarranted.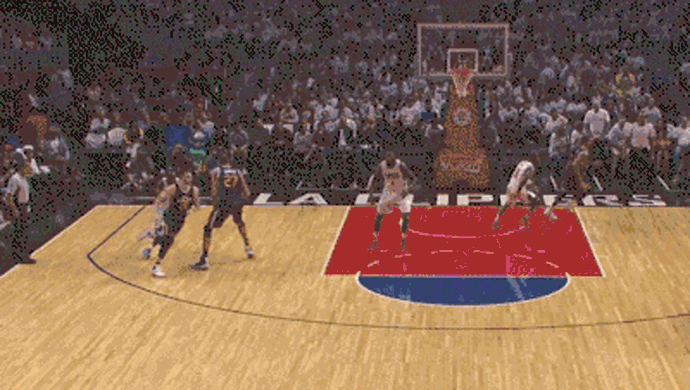 "Playoff Basketball." "Finding Identity." "Pace and Space." "Physicality." "Coaching Adjustments." "Personnel." "Crunch Time." Buzzwords!
These are but a smattering of clichés you'll hear from the talking heads. They'll have you know that "playoff basketball" is nothing like the regular season (okay) because the stakes are higher (sure) and the only teams left playing were actually good enough to make the playoffs (fair point) and hyperbole makes for good television (fine). Thus, it is imperative that teams "find their identity" on offense as well as defense (are they "pace and space" small-ballers or do they need to slow the game down to show their "physicality" in half-court, traditional-big-man-oriented play so they don't get run out of the gym?). This is where "coaching adjustments" come in—these are longer series when teams play each other back-to-back enough to learn what's working and what isn't. Of course, this all comes down to "personnel" because you can only win with the players you've got—and you've got to have that one guy on the team who you can give the ball to in "crunch time" to get you a bucket. We can also add the late-breaking and interchangeable "Playoff [NAME OF PLAYER]" to this list. That would be Playoff Rondo, Playoff Wade and any other player who suddenly seems to up his effort/execution by about 1,000% in April. Yes, the more hapless the team, like the Bulls, the more pronounced this phenomenon—which is why both guys we just named are currently on the Bulls (and, hey, they won their first game despite being extreme underdogs). We can only hope we get a reemergence of Playoff Lance Stephenson blowing into LeBron's ear.
Speaking of... There Should Be a Playoff MVT (Most Valuable Troll) Award
This year, things are already looking good for the Houston Rockets' Patrick Beverley to snag this fake award we just made up on the spot. He's been assigned the unenviable task of guarding Russell Westbrook—an explosive offensive talent who's just completed the greatest statistical season of all time—which is exactly the sort of corner Patrick Beverley likes to be backed into. He's a world-class irritant and an economy-plus-class defender. He revels in this sort of challenge—not to mention, three years ago he ended Russell Westbrook's season by overaggressively diving for a ball straight through Westbrook's ACL. So there's also that history to stir into the bubbling pot of disdain between the two hotheads. You could just imagine what hell might break loose if Beverley comes out and plays stifling defense on Russ, hits Russ with a taste of his own medicine on offense, then begins maniacally mugging in his direction... just... imagine... Well, you don't have to, because it happened on Sunday and we have video evidence. What are those faces and gestures he's making, you ask? Who knows, but it is diabolical.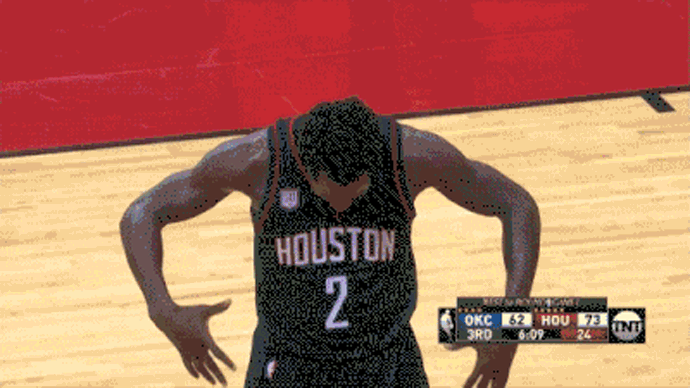 There's also the aforementioned Lance Stephenson. He had this memorable run-in with LeBron in the playoffs a few years back. (See below.) Now they're facing off again, in the playoffs, right now. This is must-watch television.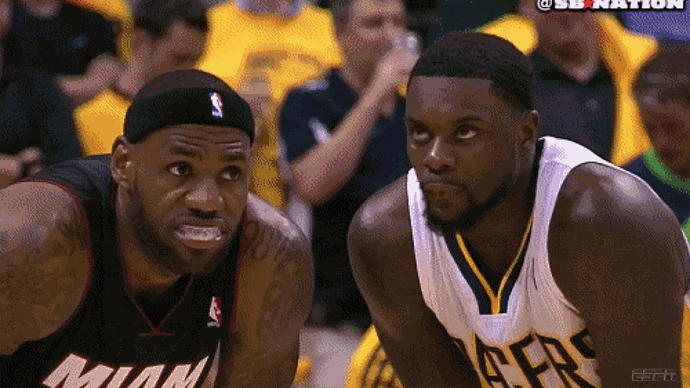 And we would be remiss not to mention Draymond Green. Sure, he's not a bit player on an underdog team like the usual Troll Figure, but this guy spent last year's playoffs nut-kicking-and-punching his way into this conversation. He's turned accidental contact into high art at this point. He tried to claim that kicking someone in the head was just an accident within his natural range of motion.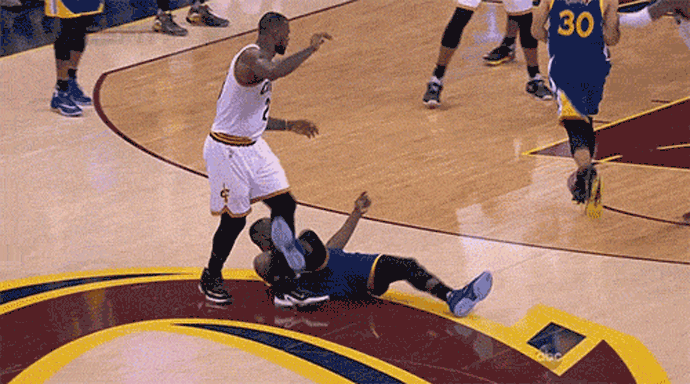 Putting the "Regular Season" in the Regular Season MVP Debate
The fieriest debate that has raged in the innermost circle of Dante's Basketball Inferno of Hot Takes all season is: who's most worthy of this year's MVP award? So here's the thing: Russell Westbrook went on a
basketball Sherman's March to the Sea
wherein he broke all of the records thought unbreakable and did it with such bombast that it's impossible not to give this guy the MVP. Sure, there were some other deserving guys whose teams are much better, but that's neither here nor there. Nor is it an entire season averaging
a triple-double
—which was a mind-boggling feat 50 years ago, the only other time it was ever accomplished, and downright mind-detonating in this day and age. And now that the regular season is over, it's obvious that Russell's heroics will not get his team any further than he already has. So, yeah, he deserves the Regular Season MVP, and we can talk about wins, records, rings and all that once he's out of the playoff picture.
The Raptors Are the New Clippers, Maybe. Or at Least the Clippers of the East. We'll See How the Clippers Do, First.
This analogy requires you to know that A: the Raptors are an NBA basketball team based in Toronto (it's in Canada, where Drake's from), which puts them in the NBA Eastern Conference. And B: the LA Clippers are in the NBA Western Conference and are a very good basketball team with talented players (that act in 90% of all b-ball-related commercials), have been top playoff contenders for the past six years straight and yet always manage to throw it all away in very disappointing fashion for inexplicable reasons—or injury. Anyway, the Raptors basically do all that, minus the good weather of LA. This only changes if the Clippers manage to get this monkey off their back this year, or if the Raptors manage to turn around what looks likely to be a first-round exit to the Greek Freak and the rest of the Milwaukee Young Bucks. Neither looks promising, so maybe just call the Raptors the Clippers of the East. Or the Canadian Clippers. It works because it's insulting to both teams.
Yes, the Championship Will Most Likely, Probably, Definitely Be Cavs-Warriors for the Third Straight Time, but You'll Still Enjoy Watching the Following Matchups (Skip the Rest, Unless You've Decided to Become a Real Basketball Nut/Bulls Fan)
LeBron is LeBron and the Warriors are Thirsty AF. (See: Kevin Durant leaving his team to chase a ring. See also: David West, same. See also also: the entire team's constant need for validation. See also also also: Draymond Green accidentally Snapchatting a dick pic instead of DM'ing it while down in Rio for the Olympics. Well, that was thirsty in the traditional sense.) All of which will make for good basketball leading up to the finals. Plus, the ongoing Cavs-Pacers series already feels like a classic rivalry—a holdover from LeBron's Miami days. Watching the Warriors versus anybody is fun if you like three-pointers, flashy passing and ball movement (wow, Draymond Green really coming through for these double entendres). The Clippers-Jazz series just got more interesting, for reasons stated above. The Spurs aren't fun, but they win and they'll probably give the Warriors a run for their money, so keep an eye on that into the next couple rounds. There's also the Washington Wizards and Boston Celtics out east who've got some exciting guard play, so if they meet up in the next round, that will be a good one. And don't sleep on the Rockets-Thunder series because, well, just reread the MVT entry now if you need to be reconvinced. Or just rewatch this GIF: