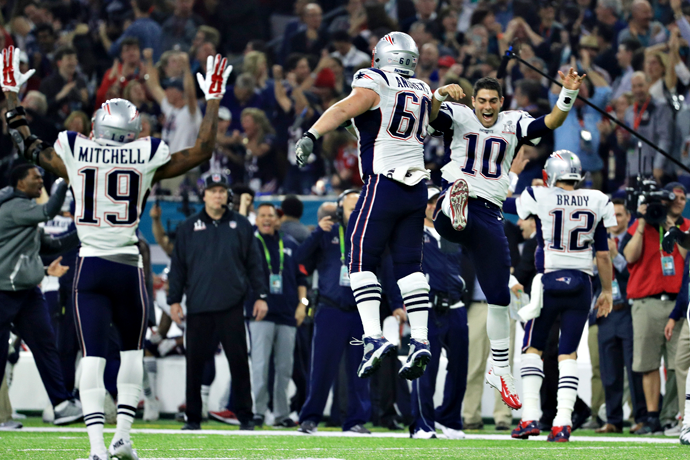 What a game.

The slow start, the historic finish, the commercials, the... non-meat-dressed Lady Gaga.

It all led to a Patriots thumb ring, and a sleepless night for Falcons fans throughout the land.

We couldn't sleep either. But for different reasons. Because after all that, we're still left with 20 burning questions that demand answers.

1.
Is the Lombardi Trophy deflatable?

2.
Now that he's won his fifth Super Bowl title, will Tom Brady finally eat a fucking tomato?

3.
And when is the devil going to collect on his and Brady's deal?

4.
What do the Russians have on the Atlanta Falcons?

5.
Who's more upset following the Falcons' collapse, Matt Ryan or Roger Goodell?

6.
What would have to happen to make Bill Belichick change his facial expression?

7.
If Christopher Walken subbed in for Justin Timberlake on an 'N Sync reunion tour, would we buy tickets?

8.
Does Rob Gronkowski still actually care about playing football, or is he now just trying to get in a Judd Apatow movie?

9.
Fan Man or Lady Gaga: Who did it better?

10.
Was Lady Gaga auditioning to be the next Spider-Man villain?

11.
Why do "Telephone" if you're not bringing out Beyonce and the holy twins? Wait, was that the world's first look at the new iPhone, and no one noticed?

12.
Will even the Westminster Dog Show now be fraught with political tension?

13.
Do tortilla chips have nutritional value?

14.
Was the cast of Ocean's Eight behind the theft of Brady's jersey?

15.
No, but really, has anyone looked into Cate Blanchett's whereabouts? Only she could've pulled off a Tom Brady performance so convincing that no one in the locker room would question her... right?

16.
Couldn't Sean Spicer (played by Melissa McCarthy) have been worked in as an official commentator?

17.
Or Chrissy Teigen?

18.
Did the massive Stranger Things spend garner any more publicity than the free Winona Ryder memes from the SAG Awards?

19.
What kind of cigars did Robert Kraft hand out in the locker room?

20.
Was Edelman's catch the greatest of all time?