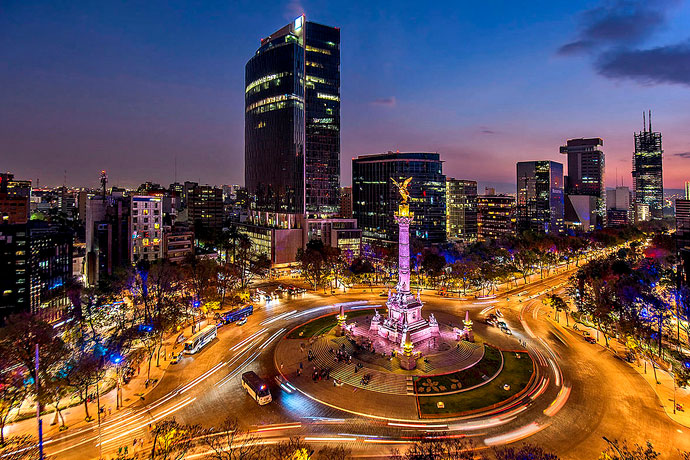 One writer. Twelve international cities. A whole year's worth of fatuous sartorial-related observation.

We're calling it: Wear and Terre.

Next up, our man on the ground heads to Mexico City.
General Notes
In Mexico City, I lived on a tree-lined street in the now-gentrified neighborhood of La Condesa. Next door, as I wrote (
or rhapsodized about
) previously, was one of the most famous taquerias in the entire city, famous for adding pineapple to their tender al pastor tacos. Across the way was an organic restaurant, where I would often go for overpriced muesli and a necessary infusion of taco-combating vitamins via kale-ginger juices. On the same street was a tiny coffee shop with strong wi-fi, an AeroPress and their own special cortado; just a few blocks away lay another one, complete with the requisite avocado toast. To my surprise, both consistently played "Redbone"—the single from the new Childish Gambino album—and songs from various Mac DeMarco records.
The more I travel (this is my seventh country in as many months), the more I feel as if I'm living in what Kyle Chayka,
writing for The Verge
, dubbed AirSpace: "the realm of coffee shops, bars, startup offices, and co-live/work spaces that share the same hallmarks everywhere you go: a profusion of symbols of comfort and quality, at least to a certain connoisseurial mindset." Per Chayka, these symbols include reclaimed wood, minimalist furniture, fast Internet, craft beer and avocado toast. (I would add to that list: potted plants and microgreens, indoor spaces designed to look like outdoor ones, chalkboard menus, unadorned concrete, cold-pressed juice and the anodyne sort of modern hip-hop and rap young white people tend to like.)
Most sizable, cosmopolitan cities these days have a La Condesa, each imbued with its own distinct flavor. These are the used-to-be-dicey neighborhoods for creatives and yuppies that are both an amalgam of their old selves (grit sublimated into "character") and the familiar omens of that tainted word, "gentrification." In Valencia, for example,
that's Ruzafa
; in Chicago, it's Logan Square (but becoming Pilsen). And the list goes on.
As companies like Airbnb and WeWork—brands with an international presence but uniform aesthetic—help the spread of AirSpace, it's not a great stretch to suggest that they're accelerating the universalization of a sort of new urban style, too. Despite some natural variations, a Brooklyn-based creative, who goes into an office with an open floor plan, spartan furnishings and Lagunitas on tap, is probably not dressing too dissimilarly from his counterpart in Mexico City, or Madrid, or Paris, or London, who
also
happens to have a proclivity toward joggers and a mustache, beanies and white sneakers, leather jackets and bombers, monochromatic sweaters and those oxfords with extra-thick soles, not to mention a somewhat disaffected mien.
In the recent past, young people (so-called "hipsters") could more easily spot these trends in advance, resulting in an ostensibly unique look. Today, with the ubiquity of social media, I'm not so sure that's possible. Trends spread so far, so quickly that the difference between knowing in advance and knowing at all is effectively zilch. The result is a sartorial AirSpace—fashion that, like most Airbnbs, has enough character and personality to distinguish itself as "local," but enough mass-produced or universal cues to still seem familiar.
That doesn't mean everyone dresses the same wherever you go, of course. I'm speaking to a very niche demographic of any city, and one that, as a millennial foreigner/young professional, I'm exposed to more than the average person. And Mexico City is a vivacious city, overflowing with culture, originality, hospitality and character, as flavorful as the tacos I love so much.
But it certainly makes it difficult, seven months into a year of travel, to differentiate the menswear scene from one large, cosmopolitan city to the next.
Trends
—Long hair. The word "shagginess" comes to mind.
—Colored oxfords with the extra-thick soles.
—Turtlenecks. Go turtlenecks.
—A profusion of bright colors and patterns, which matches the city and seems to hark back to Aztec style. (See below from made-in-Mexico boutique
Goodbye Folk
.)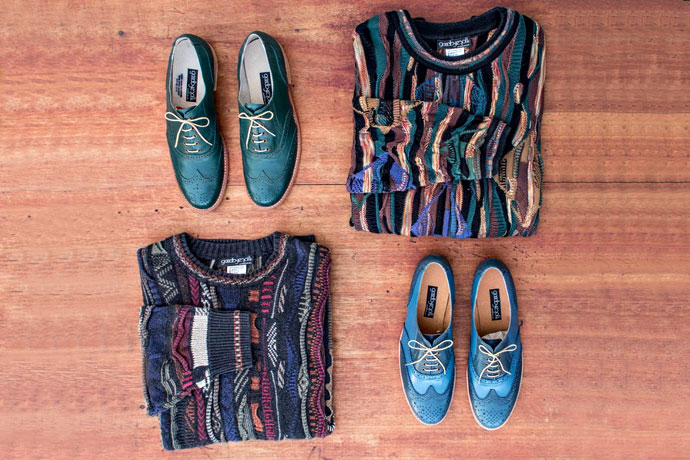 Shouts
CEO of our coworking space, wearing a brown leather jacket over a smart navy cardigan, white button-down and slacks; dude with a sincere bowl cut and an oversize beige turtleneck at an apartment party that felt like the Mexico City equivalent of an artsy house party in Pilsen; that guy with a blue suit and bright-orange sweater-vest, that kind of worked but kind of didn't but was sort of admirable, regardless; the unfriendly-looking young person walking down my street with black jeans ripped at the knee and a black sweatshirt with the phrase "Dull" emblazoned across the front in gold; the designers responsible for these
Mexico Is the Shit mesh bombers
, because despite what Mr. Trump may have told you, Mexico is, indeed, the shit.