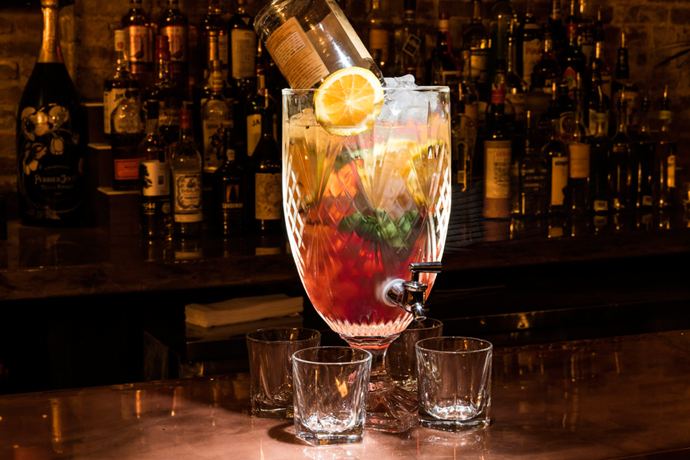 You're back to life. Back to work. And you're hearing it already, all around you. Your coworkers and so-called friends talking about their Dry January.

"I need to detox," she says.

"Gotta start the year off right," he says.

"Really overdid it last month," she says.

Well... We can think of plenty of reasons to sit down for a nice drink this month. Thirty-one reasons, in fact.

Jan 1: You didn't stop at 11:59pm, did you?

Jan 2: The Bachelor returns. We don't really want to know if you watched, but we have to assume you wouldn't do so while sober.

Jan 3: The return of happy hour. Work is hard.

Jan 4: You write "2016" on a check and need to clear your head.

Jan 5: You discover that your winter coat's inner pocket is conveniently flask-size.

Jan 6: Discreet drinks with a date who is telling everyone about their Dry January. Secret's safe with you.

Jan 7: Your team didn't make the playoffs. Sad. (Or: they did. Nice.)

Jan 8: Champagne for the Golden Globes.

Jan 9: Your annual "Here's to failed resolutions" toast.

Jan 10: Christmas decorations are still up.

Jan 11: Great hair day.

Jan 12: It's been established that sober Tinder dates are not a good idea.

Jan 13: You lost yet another glove, and you need a hot buttered rum to keep your hand warm.

Jan 14: Three words: Twin Peaks reboot.

Jan 15: The Young Pope premieres. Red wine seems appropriate.

Jan 16: Prohibition began on this date in 1920. It's not 1920.

Jan 17: You remember whiskey is fat-free.

Jan 18: The Hall of Fame inductions. Hoist a beer in Wade Boggs's name.

Jan 19: Off to Sundance. Or... drinks with someone before they're off to Sundance. Or... drinks with someone who just watched a movie that once premiered at Sundance.

Jan 20: Um, that's Inauguration Day. Yeah.

Jan 21: Brunch.

Jan 22: The NFL championships.

Jan 23: Your kitchen smells so much better when you're mulling some wine.

Jan 24: Oops, those cupcakes were spiked.

Jan 25: Hey, it's National Irish Coffee Day. We usually don't support bullshit holidays, but in this case, we'll allow it.

Jan 26: Warm soup, warm toddy.

Jan 27: It's 5 o'clock somewhere.

Jan 28: Chinese New Year.

Jan 29: Last day of the Australian Open. Might be a stretch, but we're only trying to help.

Jan 30: Maybe you did a bicep curl?

Jan 31: Dry January is over, not that you cared. Cheers.