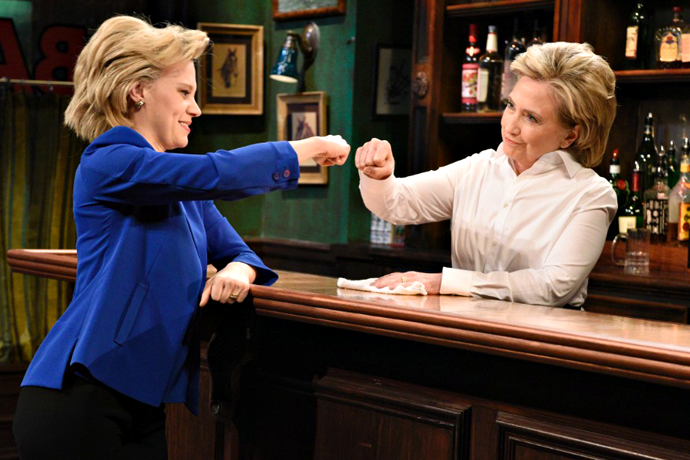 And just like that, a 108-year curse comes to an end.
The Cubs, sure, but also, we're finally in the twilight of a ruinous presidential campaign season so nauseating, so endless, it also seems like it's been a blight on all of us for about that long.
And now, today, a day when even Chicago baristas are smiling warmly, let's pounce on this blissful moment of—what is this forgotten feeling?—national catharsis, maybe even joy.
As we head into the home stretch, let's take a moment to look back fondly on the bright spots of the campaign.
Yes, we said "look back fondly." Yes, we said "bright spots."
This timeline is like some alternate universe, isn't it?
October 3, 2015
Kate McKinnon plays Hillary Clinton, taking a load off at a neighborhood watering hole. Her friendly barkeep: Val, played by Hillary Clinton. Yup, pretty normal campaign stuff so far. Good times.
October 27, 2015
If that wasn't proof enough of Clinton's good humor,
The Onion
publishes her lighthearted personal essay, "
I Am Fun
." A sample: "Fun is something I often have when amongst a group of people. In such situations, I am capable of amusing others and, in turn, of being amused by them. Thus, I am a fun person."
March 25, 2016
Like Snow White before him, a smiling Bernie Sanders communes with a little bird. At a podium, in front of thousands of fans. In Portland, of course.
September 18, 2016
Jeb! shows up as Jimmy Kimmel's limo driver in the Emmys' opening skit. It's actually pretty funny.
October 6, 2016
Hillary Clinton and Donald Trump face off in a fierce game of "I Can Do This."
October 9, 2016
The country meets, and adores, Ken Bone. Hush. Don't think about anything that happened just before, or just after. Just think of that magical moment.
October 13, 2016
Two words: "Mahna mahna."
October 13, 2016
And, okay, it's fine to think about Ken Bone again for a second. There was that dance-off he had with Clinton. You do remember the dance-off, right?
October 31, 2016
From a fifth grader: Best. Trump costume. Ever.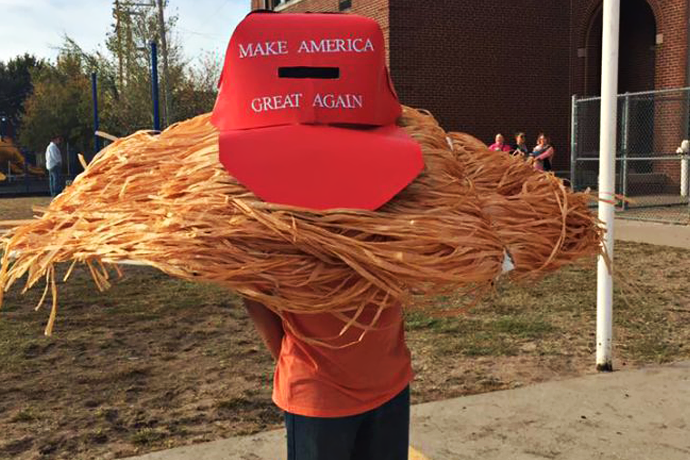 November 2, 2016
And yes, the Cubs make history. One native-Chicagoan candidate finds a brief moment of joyous solace.