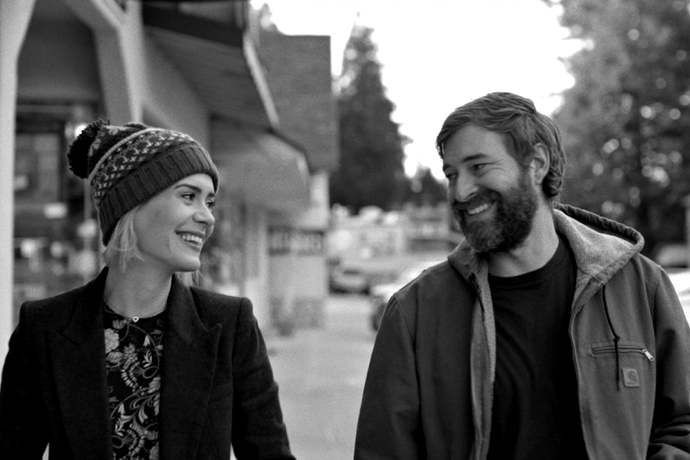 Feeling slightly homesick and unusually melancholic in my Moroccan apartment the other night—there's a phrase I never thought I'd write—I elected to rent the new Mark Duplass movie,
Blue Jay
, on iTunes ahead of its Netflix release this December.
It turned out to be just what I needed. And, on an overcast fall day sometime in your near future, it may be just what you need, too.
Duplass, known to most for his portrayal of lovable douche Pete on FX's
The League
, has a first life as an independent filmmaker. Along with his brother, Jay Duplass, who consistently feels things on Amazon's
Transparent
, they're responsible for such films-you-might've-seen-on-Netflix-that-one-time as
Jeff, Who Lives at Home
and
Safety Not Guaranteed
. Together, they also created the short-lived HBO series
Togetherness
.
Needless to say, I'm a fan of their work. They manage to hit that genre-less sweet spot only movies of a certain small-budget ilk tend to hit—between comedy and drama, sentiment and sentimentality, lighthearted fare and over-weightiness.
This latest one, written by Mark Duplass and directed by Alex Lehmann, is no exception. The plot is simple: Jim (Duplass) returns to his hometown to fix up his late mother's house and runs into his high school sweetheart, Amanda (Sarah Paulson), at the grocery store. They have not seen each other in 20 years. He's single; she's not. But it's abundantly clear they both need a reprieve from real life—to curl up, if only for an evening, inside simpler times.
Sure, it's a predictable story, with a predictable arc, but it's one told particularly well, inviting treacle and batting it away with a joyous '90s rap interlude and brazen self-awareness. Paulson brings the same intensity and presence she did to putting OJ away for life as she does to playing house with Duplass; the two have a great, weird chemistry. Oddly enough,
Blue Jay
's closest analogue might be that other blue movie,
Blue Valentine
.* Though where the former offers a case study of a relationship that might've been, the latter offers one of a relationship that already was. (And where
Blue Jay
's most intimate scene involves a platonic head massage,
Blue Valentine
's involves a particularly heartbreaking bout of shower-cunnilingus. But I digress.)
All things said, the movie, rendered in black and white, plays on a nostalgia anyone who's ever experienced the pangs of first love can feel at home inside.
So maybe cozy up with it as the weather turns, when you're looking to lean full-force into that winter-induced melancholy.
Or, you know, if you ever happen to find yourself alone and wistful in your Moroccan apartment.
As one does.
*Definitive Ranking of Recent "Blue" Movies, from Most to Least "Blue"
5.
Blue Valentine
4.
Blue Is the Warmest Color
3.
Blue Jay
2.
Blue Jasmine
1.
The Smurfs 2