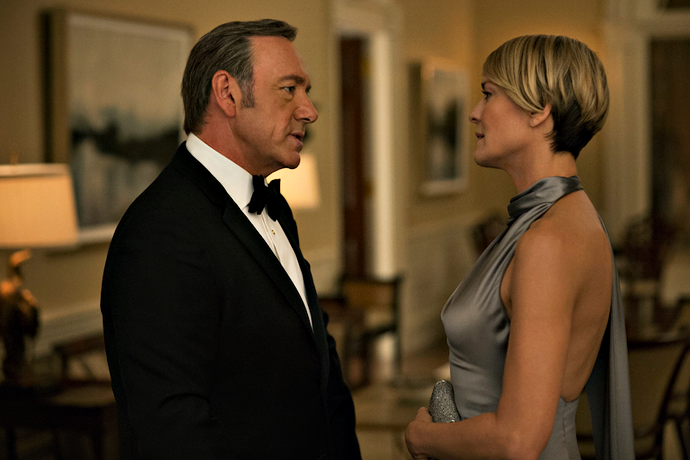 Life seems a little unfair today, doesn't it?
Well, just imagine how the executive producer of
Fuller House
feels.
Alas, in the year of peak television, there's so much content and...
so few Emmy noms to go around
.
Therefore, in an effort to placate the woebegone and neglected children of our everyone-gets-a-trophy generation, we've taken the liberty of addressing this damned injustice. We don't do it for ourselves. We do it for the Hulus. The Amazons. The Netflixes. The nonlinear programmers of the world.
Gentlepeople, we give you: the Bingeys. They're like the Emmys, except award-hogging actual TV shows aren't eligible.
And they were established to address the uniquely modern talents that our nonlinear content providers have brought to the world of entertainment.
And the nominees are:
Most Dysfunctional Couple in a Leading Role
The Underwoods,
House of Cards
Jessica Jones and Kilgrave,
Jessica Jones
Each and every Pfefferman child,
Transparent
Oh hell, this is basically every show, isn't it?
Most Flagrant Attempt to Cash In on Millennial-Driven '90s Nostalgia
Wet Hot American Summer: First Day of Camp
Fuller House
Gilmore Girls
The fact that
The O.C.
is now streaming on Hulu
Outstanding Chelsea Handler in a Chelsea Handler Series
Chelsea Handler,
Chelsea
Chelsea Handler,
Chelsea Does...
Programming Achievement That Makes Viewers Really Rethink the Value in That Whole Cord-Cutting Thing
Degrassi: Next Class
The Ranch
The Mindy Project
Community
Best Ensemble Making the Most Out of a Bad Living Situation
Unbreakable Kimmy Schmidt
Casual
Grace and Frankie
Orange Is the New Black
Best Attempt at Making Critics Note That the City Is a Character
Difficult People
The Interestings
House of Cards
Master of None
Flaked
Most Absolutely Critical Parents
Lady Dynamite
Master of None
Transparent
Bloodline
Honorary Louis C.K. "I Was a Successful Comedian and Now I Have My Own Niche Show That Reveals the Complexity Behind My Jokey Exterior" Award
Aziz Ansari,
Master of None
Maria Bamford,
Lady Dynamite
Everyone involved with
The Characters
Louis C.K.,
Horace and Pete