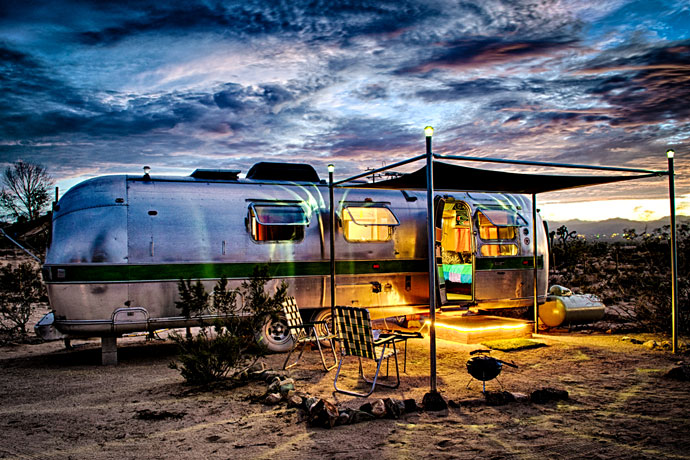 Airstream turns 80 this year, and it's still turning heads on the highway.
So as you prepare for a potentially important road trip weekend, we dove deeper into the legendarily attractive trailers via a conversation with automotive writer Patrick Foster, as his new hardcover book,
Airstream: America's World Traveler
, hits stores today.
May you never look at them the same again...
What makes the Airstream so iconic?
Several things, really. One, it's a very American brand. Airstream is as American as apple pie and hot dogs and Chevrolet. And it's a very unique-looking brand. It's all aluminum and aerodynamic. And the other thing, they've been around so long. It's the oldest American trailer manufacturer. They make a wonderful product. As I was writing the book and got more familiar with them, my interest only grew.
Are there any drawbacks or challenges to hitting the road with an Airstream, as opposed to an RV or other trailer?
Oh no. The thing about Airstreams and one of the reasons people love them so much is the all-aluminum construction. They're lighter than other trailers. So they're easier to tow and you don't put as much strain on your vehicle. If you have a really heavy trailer, you have this phenomenon known as ''the tail wagging the dog." When the trailer wiggles, it makes the car wiggle. You don't get that with an Airstream, being light for the size that they are.
Plus, they're very aerodynamic and have a very advanced suspension, so you get a better ride, smoother driving and better fuel economy. The rounded space could cut a little bit into interior space, but not really appreciably. I think they have the best interior designers in the country. They really maximize the room inside. And when you step inside one, they're really special. I walked into a high-end model and just thought, you know, I'm not good enough for this.
What might be considered the holy grail of Airstreams?
In 1936, they introduced a new model called the Airstream Clipper. That was their first aluminum model, which debuted the iconic look they have. It was rounded, aerodynamic and all-aluminum. When Airstreams were first built, they were built out of wood just like everybody else's.
The name came from the Pan Am Clipper, those big flying boats, which were so advanced at the time. They were the rocket ships of their era. And the president and founder of Airstream, Wally Byam, decided he would call his new trailer "Clipper" in honor. That original issue would be the holy grail.
And is there an Airstream mecca?
Oh yeah. Jackson Center, Ohio, where the factory is located. It stands out because, well, number one, it's about the only thing in town. Airstream occupies about 99% of it and probably employs about 99% of the people in that area.
It's a very large factory. And they built a large customer service garage there, where you can bring your entire trailer indoors. With a service center. So if you need service, they can service it. Whether it's your television that isn't working or your toilet isn't... whatever.
And while they work, you sit inside of a lounge that looks like the end of an aluminum trailer with blackout windows that are really a TV set. So you sit there in comfortable chairs while watching TV and they have free cookies. There's also a gift shop and sort of a museum setting.
Once a year, there they have something called "Alumapalooza," quite a large gathering of Airstream enthusiasts. So that would be mecca.
What's your take on Airstreams being converted into businesses?
I think it's great. There's this luxury property called the Grand Daddy Hotel in Cape Town, South Africa. And on the roof of it, they've got a fleet of Airstream trailers, which are the premium rooms. And there's a place in Florida with a little waterfront where all the vendors are in permanently parked Airstreams that have been converted into food trucks. There's a lady who converted hers into a hair salon and travels around the country. And there are a lot of people customizing them into tiny homes. It's all good stuff.
And any rules you can offer to live by when taking a road trip?
Be patient. Because you never know what's around the next corner.
Also, I have a quote from Wally Byam in my book that I like. He was sick with brain cancer in the early '60s and dying. Some of his friends, caravaners that had gone all over the world with him, were worrying and wondering, "What are we going to do?"
And this is what he said: "Don't stop. Keep right on going. Hitch up your trailer and go to Canada. Or go down to old Mexico. Head for Europe if you can afford it. Or go to the Mardi Gras. Go someplace you've heard about where you can fish, hunt, or collect rocks or just look up at the sky. Find out what's at the end of some country road. Go see what's over the next hill. And the one after that. And the one after that. Keep going."