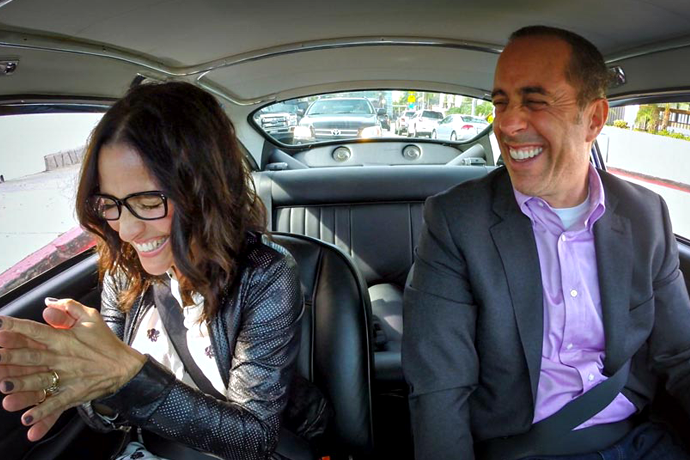 Here are five things that UrbanDaddy editors will be getting into this weekend. We call it... the UD Five.
Rejoice, Comedians in Cars Getting Coffee Is Back.
"At this point it's easy to make the argument that Jerome Allen Seinfeld is a national treasure. Which makes the argument to mark your calendars for the latest season of
CICGC
(really, rolls off the tongue) even easier.
The new season premieres this Thursday, June 16
, and promises more witticism and friendly banter between Jerry and the likes of Lorne Michaels, Jim Gaffigan, Margaret Cho, Judd Apatow, J.B. Smoove and John Oliver. Actually, that's all of the likes of. Once I got started listing them off, there was no natural stopping point. Anyway, Thursdays, watch it (online). The cars are cool, too."
—Najib Benouar
His Cannes-Do Spirit.
"I stumbled upon this gem—
Two Weeks in the Midday Sun: A Cannes Notebook by Roger Ebert
—a few weeks ago while scouring the web for unique,
Chicago-centric Father's Day gifts
. The 'notebook,' which is a first-person account of Ebert's experience at the 1987 Cannes Film Festival, has recently been reissued with a new foreword from Martin Scorsese, and a new postscript from Ebert himself, which, coincidentally or not, revolves around a particularly memorable dinner the critic shared with Marty. The book hits a few sweet spots for me: travel writing; film criticism; observing people from quaint French cafés... I've already downloaded it on my Kindle, but wisely opted to save it for a trip I'm taking to the South of France next month. And hey, maybe I'll buy a hard copy for Dad, too. Unless he's reading this. In which case, I'm, uh, totally just kidding."
—Sam Eichner
Everyone Should Really Know About Mitski.
"In 2014, I was in a music rut, trawling
Pitchfork
in hopes of finding something I hadn't heard before that I could get into. I saw the title of an album from someone/thing called Mitski,
Bury Me at Makeout Creek
, that I recognized as a line from
The Simpsons
. That seemed as good a reason as any to give it a listen. And it was awesome. I've been proselytizing for Mitski Miyawaki, who turned out to be a 24-year-old Japan-born daughter of a diplomat, ever since. I am by no stretch a music writer, so take it with a grain of salt when I feebly attempt to describe her sound as early Weezer meets Joni Mitchell, or some such.
Her new album, Puberty 2, is now streaming on NPR
. How about just listening to it?"
—Geoff Rynex
Eric Ripert's New Memoir Is a Real Page-Turner.
"Sure, he's an interesting guy with a three-Michelin-starred restaurant (Le Bernardin) and good hair. And his upbringing, which included life in Andorra, a complicated family dynamic and boarding school, makes for a compelling read. But it was his time as a young chef working under Joël Robuchon in Paris
that makes his memoir, 32 Yolks, so fascinating
. The 18-hour workdays, demand for perfection, constant stress and relentless criticism by Robuchon were enough to make most men cry, crack and quit. But Ripert took the abuse, learned all he could and channeled that into his own successful career. It's a good read, and for the first time ever, I'm able to fully appreciate not working in a French kitchen in the 1980s."
—Kevin Gray
The '80s Simply Will Never Die.
"Okay, I may write about Morrissey and the Smiths too much. I may think about them too much. I may listen to them too much. None, however, are valid excuses as to why I shouldn't tell you that
Rizzoli has just released The Smiths
, a pretty epic document of the Smiths' 1985-1986
Meat Is Murder
and
The Queen Is Dead
tours. Tour photographer Nalinee Darmrong's sumptuous black-and-white photography captures the band at the height of their creative powers. Plus, essays from pop-culture writer Mark Spitz make this a must-have for anyone who is an '80s music freak like me."
—Chris LaMorte