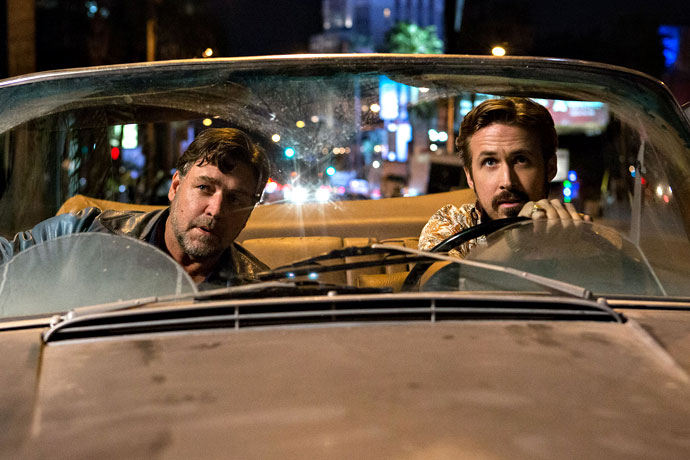 Here are five things that UrbanDaddy editors will be getting into this weekend. We call it... the UD Five.
A Time for the Kills.
"I've been a sort-of fan of the Kills since I was a teenager, idolizing Alison Mosshart's bleached-blonde hair and carefree rocker style. Meaning, I never actively sought out their music, but I'd find myself enjoying them whenever they came on some playlist or other and made an effort to seek them out at a few music festivals over the years. Last weekend they
dropped their first album in five years, Ash & Ice
. So, since I was a teenager. I'm looking forward to giving it a listen and seeing if her rich vocals paired with Jamie Hince's soaring guitar riffs have stood my personal test of time. Still a fan of her hair. So there's that, at the very least."
—Ilana Dadras
Still on Our Must-See List: The Nice Guys.
"Shane Black knows neo-noir (see
Kiss Kiss Bang Bang
. No, seriously, see it). Shane Black knows the buddy-cop genre (he created
Lethal Weapon
, after all). Shane Black knows if you cast Ryan Gosling as a seedy private dick in a seedy '70s LA and try to have him solve the mysterious death of a seedy porn star (with the help of one Russell Ira Crowe), I'll watch."
—Adam Weinberg
No Time Like the Present for This New Chuck Klosterman Book.
"Chuck Klosterman is probably someone who I should have read more of in the past. So this weekend I will do that. I just downloaded his new book,
But What if We're Wrong? Thinking About the Present as if It Were the Past
, a collection of essays pondering what today—specifically our pop culture of today—will look like from the perspective of people in the far future. I just hope I will learn if yelling 'Play "Freebird"' at a concert will still be a thing in 2516."
–Chris LaMorte
"Stranger to Stranger.
That's Paul Simon's new album.
Listen to it now.
"That was a haiku about 74-year-old Paul Simon's new album,
Stranger to Stranger
, which you should listen to now. As you were."
—Kelly Larson
Where Bodies Are Buried.
"
Radiolab
's '
The Buried Bodies Case
.' It's a real-life murder mystery from the '70s. Two lawyers hide their client's biggest secrets to the detriment of families and the community. It's a look at one of the most divisive moral dilemmas of the last 50 years. If you don't already follow
Radiolab
, this is a great place to start. If you do follow
Radiolab
, crazy, right? Just absolutely bananas."
—Nathan Wahl