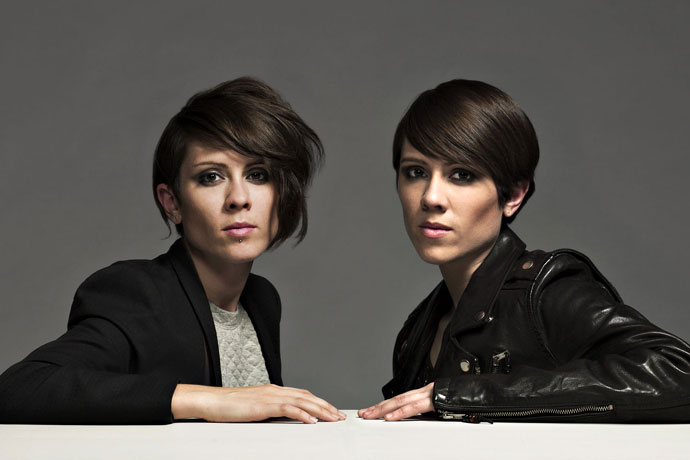 Here are five things that UrbanDaddy editors will be getting into this weekend. We call it... the UD Five.
Love, Death, Tegan and Sara.
"Synth-heavy pop is usually at the bottom of my list of preferred genres, but I'll be making an exception this Friday
when Tegan and Sara's new album, Love You to Death, comes out
. They hooked me back in high school with their gritty, soulful acoustic albums, so I've stuck by them during their 10-year-long shift from indie to pop music. Based on early reviews and the single, the new album will be full of EDM-influenced synth and catchy dance tunes. At the very least, it sounds like it'll be the perfect upbeat soundtrack for summertime running."
—Leah Butterfield
Maya & Marty: A Recap.
"I had such high hopes for
Maya & Marty
, a throwback-style variety show starring the supreme comedic talents of Maya Rudolph and Martin Short. Alas, I got a piece of light entertainment clocking in somewhere between a late-in-the-show
SNL
sketch (including Kenan Thompson's Steve Harvey impression) and
The Tonight Show Starring Jimmy Fallon
buffoonery (yes, and that includes a Jimmy Fallon appearance). The highlight: Miley Cyrus's smoky rendition of Leonard Cohen's 'I'm Your Man,' which morphed into 'I'm a Woman' with Rudolph joining in. It can only get better. Next week: Tina Fey and Steve Martin join the fray."
—Chris LaMorte
A Museum Dedicated to Heartbreak.
"
The Museum of Broken Relationships opens in LA this Saturday
. It's a collection of tokens people have contributed to the curators from their failed romances and kinships over the years. From what I understand, each object comes with a story. It sounds like a very original, emotional idea that I'm eager to explore as a paradoxical world to a piece like
Eternal Sunshine of the Spotless Mind
. And I expect lots of mixtapes."
—Hadley Tomicki
The Just Fucking Eat It Diet.
"I'm what's referred to as skinny fat. I eat and drink mostly unhealthy things (professional hazard), but I don't put on weight. It's not even that I hate vegetables or lean meats or anything like that. I just don't always have the time or energy to put together full meals of healthy things. This is not a humblebrag of any kind. It's an introduction to the new diet I've devised. One that's been pretty damn successful so far. I go to the market, I buy watercress and spinach and carrots and radishes and peppers and such, and then, every morning before work, I just spend three minutes or so jamming these things into my mouth, raw. No prep time. No dishes. No salad dressing. I just fucking eat the stuff. I can feel the health coursing through my veins."
—Geoff Rynex
Feasting on Chef's Table Season 2.
"
Netflix's docuseries on chefs
is basically their answer to ESPN's
30 for 30
—but for foodies. The first season profiled six chefs and was, as you'd expect, a bit erudite and sentimental and slow-mo-y at times, but each bite-size episode is a feast for the eyes. (Yes, all of those food puns intended). Anyway, Netflix just dropped the next bundle of six episodes over the weekend, and while I binged the first batch, I look forward to savoring these over the next few weeks. What can I say, I'm a glutton for food puns."
—Najib Benouar