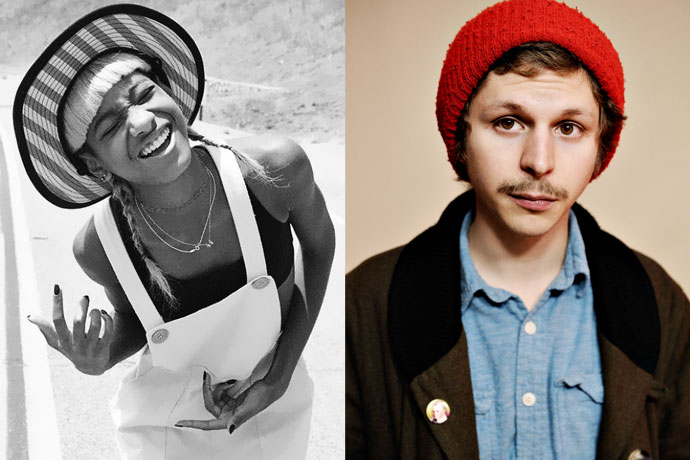 Hey, it turns out boyish actor Michael Cera produced a song by Jada-Will product Willow Smith. Weird. Anyway, it's called "
Twentyfortyeight 2.0
" and we couldn't not listen just to analyze the hell out of it. And lo and behold, it gets weirder.
Age of Willow Smith:
15.
Age of Michael Cera:
27.
Age you figured Michael Cera was:
15.
Your feelings that Willow's new song would be a cruddy earworm because you're still haunted by "Whip My Hair":
High.
Your feelings that production by a quirky little man from Superbad could alleviate some of the crappiness:
Moderate.
Your age when you last appreciated anything resembling the lullaby-like piano intro:
This many (as you awkwardly hold up three fingers).
Resemblance to one of those spacey speak-songs that Mazzy Star usually puts on albums that you sometimes skip because you're trying to mellow out:
Close-ish.
First word of the song:
Um.
Most repeated word in the song:
Um.
Sense that "song" isn't really the right word:
Acute.
Amount of time you'll listen before wondering what the hell is in the water at the Pinkett-Smith house:
Roughly 20 seconds.
Word that best demonstrates how homeschooling is paying off for Willow:
Nebulous.
General theme of the song:
Society is bullshit.
Who said it better:
The Clash, Rage Against the Machine and practically everybody else.
Total length of song:
1 minute 48 seconds.
Your sense of relief that it isn't longer:
Extreme.
Odds that anyone would care about this without Cera's and Smith's involvement:
Negative 13.
Your anticipation for "Twentyfortyeight 3.0":
Nonexistent.