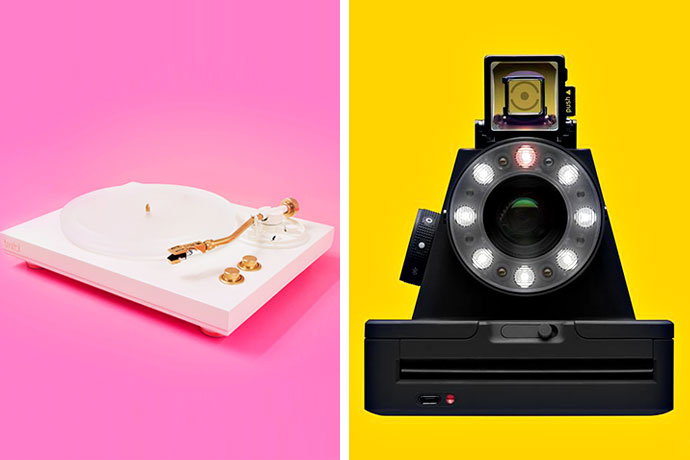 Through the magic of hipsterdom, irony and a fine-tuned sense of nostalgia for things that are "vintage," "twee" or "just plain old," many of our most obsolete (and beloved) technologies have been rescued from the brink of extinction.

Today, two such cases receive a much-needed update, thanks to TRNTBL and the Impossible I-1 instant camera.

The former is a stylish, wireless record player that builds a Spotify playlist from the music you play in real time, and you can preorder it now for this summer; the latter is a Polaroid camera for the digital age, and you can buy it now.

Both threaten to drastically improve your living room and/or creative pursuits.

Allow us to break them down thusly...

TRNTBL
The antecedent: Your dad's old record player.
The look: It's sleeker and thinner and it comes in creme or black with elegant gold detailing. It also requires substantially less real estate on your corner table.
The updates: This thing is completely wireless and Bluetooth compatible. So there's that. But it will also automatically identify the tracks you're playing in real time and generate a Spotify playlist for your friends to listen in on whenever they please. So there's that, too.

The Impossible I-1
The antecedent: That clunky Polaroid camera you wore around your neck in the '90s.
The look: You'll recognize the shape. And... that's about it. Just take a gander at that cool-looking advanced ring flash circumscribing the lens.
The updates: What you've got here is the first new camera system in over two decades designed for the formerly anachronistic Polaroid format. Meaning: you're still printing your photographs. Only now you've got a smartphone app that can act as a remote trigger and incorporate digital effects onto your instantly tactile photos.

This has been fun. But it's only a matter of time until we do this again for tape decks or something.