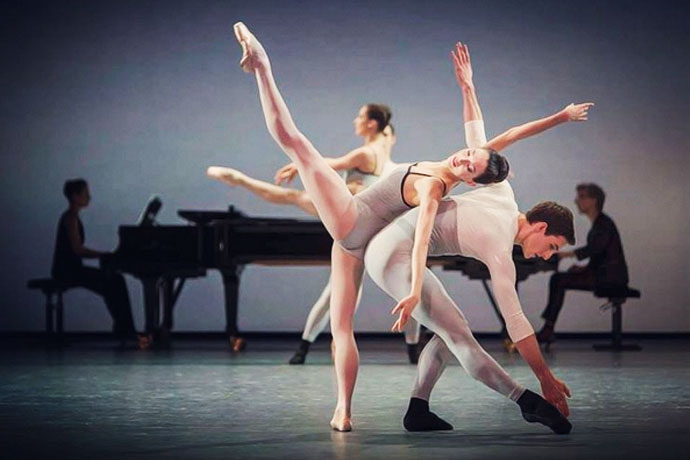 Here are five things that UrbanDaddy editors will be getting into this weekend. We call it... the UD Five.
Justin Peck's Instagram
"Couple years ago, Justin Peck was a 25-year-old dancer with the New York City Ballet. This would be impressive enough, sure, but also he happened to be choreographing a new work for the company, as seen in the doc
Ballet 422
. You can catch that on Netflix, if you haven't already. There's no contrived dancer drama, no cinematic showdowns, just a fly-on-the-wall glimpse at talented people working together to create something. More recently, the company's second-ever resident choreographer has hit Miami, Paris and San Francisco—and this being 2016, you can catch all that on his Instagram. Expect intimate rehearsal video snippets, piles of cigarette butts (in Paris, obviously) and lovely ballerinas in strange hats. Like
Ballet 422
, it's not too polished, not too PR-y. Which is why it's so good."
—Lonny Pugh
Papa: Hemingway in Cuba
"This very new movie (it hits theaters this weekend) checks a couple boxes for me, as both a Hemingway fan and a recent visitor to Cuba. The biographical look at Hemingway's (Giovanni Ribisi) life in 1950s Havana is the first Hollywood production to be filmed in the country since the revolution. So that's neat. And it'll give some insights into the last years of the writer's life as the island country he called home fell into turmoil around him. It actually sounds a little depressing, but I'm intrigued. Both by the film itself and also the rum-in-flask possibilities."
—Kevin Gray
Are We Smart Enough to Know How Smart Animals Are?
"Bleak nonfiction books are my shit, so this new release from biologist and primatologist Frans de Waal sounds right up my alley. Early reviews suggest it has the perfect mix of groundbreaking scientific research, descriptive accounts of animals doing surprising things—apes sitting down to drink tea, octopi using coconut shells as tools—and connotations about egotistical human assumptions and environmental failures. It'll make a great beach read."
—Leah Butterfield
Living Los Sures
"This 1984 documentary gives viewers a glimpse of Williamsburg's Southside way back when. Grainy 16 mm footage taken by locals shows a time when this part of Brooklyn was still known as Los Sures: a time way before block-long lines for rainbow bagels, a time when the neighborhood was still largely home to a Dominican and Puerto Rican community. It was supposed to have a weeklong run at the Metrograph theater this month, and yet, this weekend will mark its third week showing. If you're not in New York to check it out,
the website's got some interesting bonus footage
and features, like an interactive short with a Brooklynite and a shot-by-shot breakdown of the film."
—Ilana Dadras
Daytime Television Drama
"Morning talk shows are not for me. Period. Stop. However, I learned this week that watching morning talk show personalities air their dirty laundry in public and reading about the boardroom machinations between eight-figure-salaried TV hosts and (even higher) eight-figure-salaried network executives is very much my thing. Damn, now I'm all wistful for the late-night wars."
—Adam Weinberg