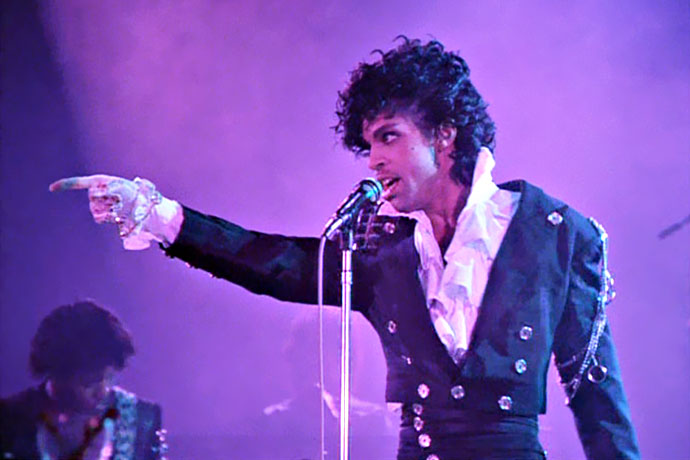 Well, fuck.
Today we'd like to pay our respects to Prince Rogers Nelson, simply, with our favorite memories of a man (if that mortal term even applies) who left the world freakier, nastier and more ebullient than he found it.
"My parents were just meeting when
Purple Rain
came out, so I grew up on him. Even at a really young age, I could sense that this guy was just different. His music didn't sound like anything else, and he obviously didn't look like anyone else. It's hard to even think of him as having been human rather than this timeless celestial being that decided to come to our planet to blow our minds for a little while. I went to the Smithsonian several years back, and they've got his Yellow Cloud electric guitar. I remember just doing kind of a double take, stopping in my tracks and staring. The 'Purple Rain' solo had been played on that thing at some point. He probably wrote the entirety of the
Batman
soundtrack on it. I was in a place surrounded by priceless artifacts of American history, but nothing captivated me like Prince's guitar."
—Geoff Rynex
"In 1985, my family packed up and went to see Prince on the
Purple Rain
tour when it came to the Fabulous Forum in Inglewood. Sheila E. opened and had glow-in-the-dark drumsticks. I remember singing along to every song, including 'I Would Die 4 U,' 'Purple Rain,' of course, and a slow, hypersexual version of 'Darling Nikki.' I remember the ticket encouraged everyone to wear purple. I remember water shooting out of his guitar. Now I'm sad."
—Hadley Tomicki
"I didn't know much about Prince's music until college, when a wise upperclassman clued me into a cardinal rule: there is no party that can't be improved by adding Prince to the playlist."
—Taylor Tobin
"In my LA days, I used to often grab a drink at a bar called Sayers Club. One night, Prince strolled in with a few folks from his band and played a full set on a total whim. It was very cool that it was a very real thing happening in real life for everyone who happened to be there that night."
—Thompson Brandes
"Prince on
SNL
. He played a section of his solo with only one hand and played it better than most people can with two. It's too bad he was such a stickler about keeping his content off the web. I could go for a marathon of Prince solos right about now."
—Nathan Wahl
"Scandal in the schoolyard. Someone brings 'Darling Nikki' to class—transcribed lyrics on crinkled notebook paper! 'M... a... s... t... u...' and all the rest of it. Kids gather around during lunch to read them. I'm confused. Someone please explain. What does a magazine have to do with anything? Please, someone! Explain. Bell rings. Back to class."
—Chris LaMorte
"I remember when I was a kid, I was almost scared of Prince. Not in the traditional sense. It was more that his confidence and bravado were just so brilliant, rare and, yes, intimidating. My parents wouldn't let me watch
Purple Rain
, and that may have been where my initial intrigue came from, but he's been a constant source of fascination for me ever since. It's a sad day."
—Kelly Larson
"I never saw Prince live, but I did see Prince perform on my TV during the 2007 Super Bowl halftime show, which seemed like the next best thing. Seeing him play 'Purple Rain' in a goddamn downpour was surreal. Everything was wet and purple and perfect. He was like a superhero harnessing the weather to increase his powers."
—Kevin Gray
"Speaking of which, this
actual conversation
that happened:
NFL:
Prince, now I want you to know it's raining.
Prince:
Yes, it's raining.
NFL:
And are you okay with that?
Prince:
Can you make it rain harder?" 
—Najib Benouar
"That opening riff in 'When Doves Cry,' on and on forever."
—Lonny Pugh