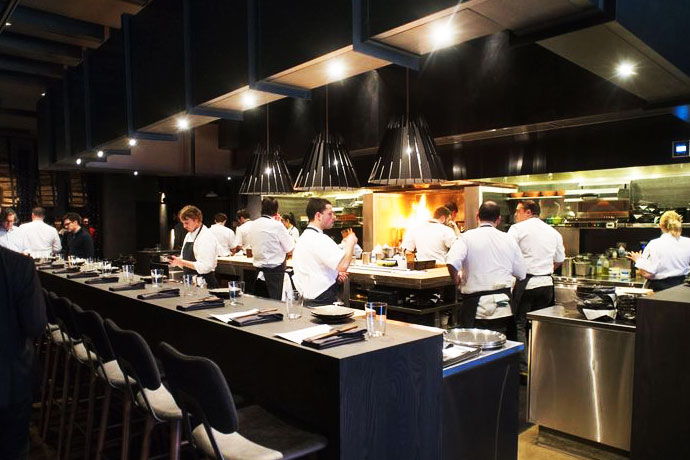 Roister.
You might've heard this word mentioned a few times over the course of the weekend, in conjunction with phrases like "I heard it's the new place from the Alinea guys" and "Huh. Totally rhymes with 'oyster.'" Makes sense, seeing as how both of those things are true. It's open now in the West Loop and
this is its menu
.
Given the caliber of this opening, we decided to send our Senior Eating-Food Correspondent out into the field to experience it firsthand. Later, we sat down with him to get the scoop.
This is that scoop...
UD:
So, you just had dinner at Roister. What are the feelings you're feeling?
SEFC:
Satiation. A pleasant light-headedness. The lingering taste of some particularly spectacular creamed spinach...
UD:
We take it you had creamed spinach.
SEFC:
Yes, with an impossibly tender white-peppered lamb shank. That was, of course, after the oysters served on a bed of smoked seaweed. Oh, and the savory sourdough pancake with marinated mussels.
UD:
Everyone wants to know. How does it compare to Alinea?
SEFC:
Let me put it this way: if Alinea is Brian Eno, Roister is his boisterously talented nephew who dresses stylishly but casually and is partial to A Tribe Called Quest.
UD:
Not sure how well that analogy worked.
SEFC:
Me neither. So I'll say this—it's fun. It's informal. It's lively and spontaneous. The restaurant is set up such that the kitchen is the dining room, and you're simply eating around it. We were seated at the bar in back, near the firewood. A chef was sampling wine in front of us; our server was also mixing drinks. All the dishes came out on hot pans or plates just steps away from where they were created, and the place, at times, smelled like a bonfire because of the hearth oven.
UD:
Sounds discombobulating.
SEFC:
Well, don't get me started on the place settings...
UD:
...
SEFC:
On top of your napkin is a pouch for your silverware (including chopsticks), so when you're done using the fork, say, after the first course, you can put it back inside instead of on the table.
UD:
Revelatory stuff. Hey, you didn't happen to drink anything, did you?
SEFC:
For investigatory purposes, I did feel it necessary to sample a
few libations
, yes.
UD:
And?
SEFC:
First, I ordered a frothy yellow drink called A Sour in the Key of Raffi, which contained curried, hearth-roasted banana. Then, the bartender recommend I try his amaretto sour. It had some black truffle whose richness hit you on the nose, but finished with a nice bitterness.
Then
then, they brought out gratis shots of this pineapple-green-tea-white-rum concoction for everyone at the restaurant.
UD:
Wait, there was pineapple in it?
SEFC:
It's possible that you're focusing on the wrong thing here.