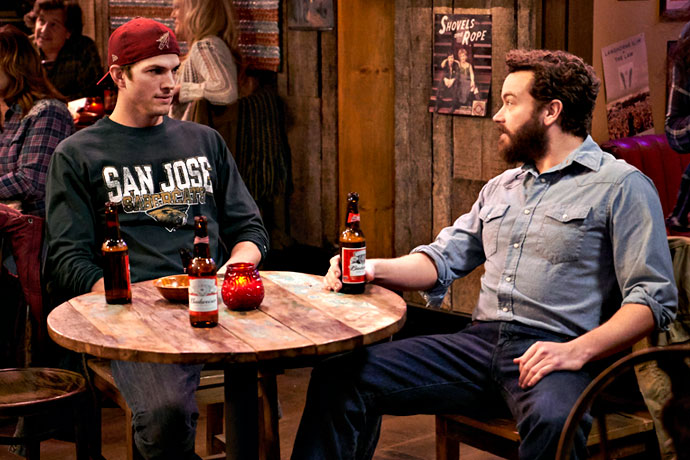 Lot of entertainment out there for you these days. You've got your Netflixes. Your HBOs. Your Hulus. Bottom line is, you can't watch everything. So here's a little primer to help you decide whether a new show is worth your precious downtime. We take a dip in to see how things are progressing... This week: we check out The Ranch, now streaming on Netflix.

Quick synopsis: A down-and-out semipro football player, Colt (Ashton Kutcher), returns home to his family's ranch in rural Colorado where he realizes that "not everything is as it used to be" and "he might have some growing up to do." Hmm. Okay.

Major themes: That classic way sons inevitably become their fathers; adapting to an ever-changing world; failure to launch; the pitfalls of living in the past; post-whiskey-sip snarls; small-town celebrity and the ditzy-young-lady response; having a dream, not achieving it, and then generally acting out until you figure out what to do next; the politicization of climate change, sort of.

How you'll describe it to your friends: "It's as if Hyde and Kelso from That '70s Show were cryogenically frozen, only to wake up years later in the middle of Colorado with no Fez, inconsistent Western drawls, whiskey instead of pot and a vaguely conservative value system."

Why it's relevant to our cultural moment: There's something antithetical and maybe a little backward about Netflix—the future of TV—producing an earnestly traditional, laugh-track-and-all multi-camera sitcom. Don't get me wrong: I'm no luddite. Nor am I old enough to have lived through the sitcom's heyday. But there is something singularly TV-ish about this style that, for me, suffers an indefinable loss in translation from the communal screen in your living room to the personal one in your bedroom.

What's good so far: In a time when reboots and '90s nostalgia have reached critical mass, it's not surprising to find old friends (Ashton Kutcher and Danny Masterson) repackaging their brotherly love-hate for a contemporary audience. I admit: I kind of missed them. I fucking loved That '70s Show, and still curse the programming director or whoever who decided to stop playing the reruns on what seemed like perpetual 24/7 loops throughout my adolescence.

Now, would I prefer to get stoned and eat a bunch of popsicles with Kelso and Hyde in Forman's basement? Of course. But if I didn't like President Obama, drove a pickup truck and really dug pop-country music, I probably wouldn't mind hanging out with Kutcher and Masterson's Colt and Rooster Bennett, either.

What could use some work: I find it somewhat galling that Netflix gave these guys (former Two and a Half Men showrunners) carte blanche and they go and create a show that, for all intents and purposes, belongs on a major network's Thursday night comedy lineup. Like, come on. At least do us the service of failing miserably at your super-niche passion project about the secret lives of '70s flight attendants (I'm guessing) or uber-rich millennial vampires (I'm projecting).

From what I can tell from the first three episodes, The Ranch is just fine for what it is: a traditional sitcom that's content being fine for what it is. Personally, I'm ambivalent toward the stuff. It's not something I'd search out, but if it was on during the commercials of The Real World, I might flip it on for a few quick jokes. Not that I watch The Real World...

This week in stuff that's meta... Some of the show's most affecting moments—and I'm using "affecting" generously—come when Kutcher's Colt chafes against the realization that perhaps the best years of his life are behind him. He peaked in high school; probably so did Kelso; and while I'm rooting for Kutcher, maybe he's afraid he has, too. After all, can you ever really top Punk'd?

Episode 1 grade: B.

Episode 2 grade: B-.

Episode 3 grade: B+.

The three-episode average: B.

Why it's worth continuing: I'm not opposed to having my brain lullabied into mindless stasis by the snappy, predictable rhythm of a well-oiled television machine for a half hour here or there.

Why it's not: I prefer my televisual lullabies in the form of pot-smoking teenagers rather than whiskey-drinking Colorado ranchers, so I'll stick to reruns of That '70s Show. Speaking of which, will someone please put That '70s Show back on the air?