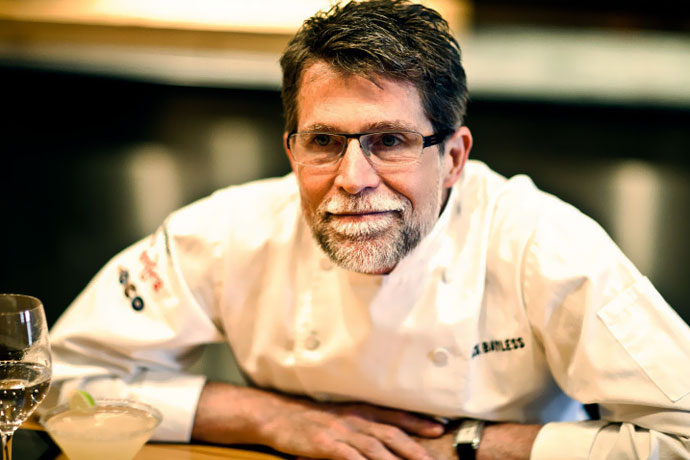 Maybe you've heard of Rick Bayless.

Television personality.

Outspoken Mexican-food fanatic.

Staunch example of well-coiffed facial hair...

Anyway, we caught up with the man prior to his talk at this year's Good Food Festival in Chicago. Among the topics discussed: midnight snacks, Oaxacan black mole and his two forthcoming projects in the Windy City. Among the topics not discussed: that enviable facial hair.

Sorry if we've failed you.
Name one way to rejuvenate a classic margarita.
Use mezcal instead.
Salt on your rim or no?
Salt.
Mezcal or tequila? Don't say "both."
I
love
tequila, but heaven for me is a cool mezcal bar.
Admit it. When's the last time you went to Taco Bell?
Can't say I've been.
What's the best food city in Mexico?
That's almost impossible to answer, but I'll say Mexico City. It seems like the whole world is (finally!) taking notice of what an amazingly vibrant place Mexico City is.
How many ingredients go into a good mole?
It's usually a lot. Example: one of Topolobampo's signature dishes is our Oaxacan black mole, which has 29 ingredients. That's not always the case, but a good mole is a symphony of flavors.
What's the one ingredient most guacamoles are missing or lacking?
Ummm... bacon
.
What's one common Mexican dish that's still virtually unknown in the United States?
Aguachile. [
Ed. note: Aguachile is generally composed of shrimp with a spicy chili-lime broth. Here's one of Bayless's own recipes.
]
Your favorite city (besides Chicago) to eat Mexican food?
It changes all the time, but right now it's anywhere in Baja Norte.
Where do you go for tacos in Chicago (when you're not going to one of your own restaurants) and what do you order?
Don Pedro Carnitas
in Pilsen for excellent carnitas by the pound.
You're on a panel for the Good Food Festival discussing the culinary sector's role in creating a "Good Food" system. What does that mean, exactly?
Basically, a system that prioritizes local farms and not commodity foods. Not only does food from local farms undoubtedly taste better, it's better for the environment and better for the local agricultural economy. There's no better cause than supporting local farms. I don't want to know what a world without them looks like.
What's the biggest difference—with regard to using local, sustainable foods—you've noticed from when you began cooking to now?
We are finally starting to pay attention to where our food comes from. I don't have the stats on hand, but there are so many more farmers' markets in America than in previous decades.
We in Chicago are looking forward to Leña Brava (your Baja California–inspired seafood restaurant) and Cruz Blanca Cervecería (your Mexican brewery). Why these two concepts? What type of dishes and beers are you most excited to be making and brewing?
I've always been obsessed with cooking with live fire—Topolobampo and Frontera use wood-fired grills and Xoco uses a big wood-fired oven.
The possibilities at Leña Brava
are so exciting because we can get that appealing, nuanced flavor into so much of the seafood-focused menu, and even the dessert.
And the taqueria at Cruz Blanca is super rustic. You'll get your choice of wood-fired taco fillings and we'll just pile them on a beer tray and give you a big stack of just-made tortillas.
You wrote that Cruz Blanca was inspired by Emil Dercher's Mexico City spot. For people who don't know, who was he exactly and what about that place inspired you?
Emil Dercher was a Strasbourg native and a brewer who gained renown for using local ingredients and botanicals in his bottle-conditioned beers. He came to Mexico City in the 1860s and established the Cruz Blanca brewery. We're inspired by his willingness to experiment with local ingredients—that's been a hallmark of Frontera for, gulp, three decades now—and his sense of adventure.
Cruz Blanca will specialize in the French "bière de garde." Why did you want to focus on that type of beer? What do you like about it?
Because bières de garde offer a canvas for which our head brewer,
Jacob Sembrano
, can experiment. Oh, and they're going to pair really well with the tacos.
Tell us about the last meal that genuinely surprised you.
We recently filmed in Yucatán for the 11th season of our public television show. At sort of the last minute, we changed the focus of one episode and found our way to Le Chique, which is located within a resort near Cancún, which is not the most promising city for food options. But chef Jonatán Gómez Luna simply blew me away—his tasting menu distilled the entirety of Mexico over several courses.
You can't eat Mexican food for one year. What type of food do you eat instead?
Thai.
Your ideal hangover food?
Oh, I'm rarely hung over (I'm up early), but you can't beat a plate of huevos a la mexicana, which comes together in a matter of minutes.
The best midnight snack?
Three words: potato-chorizo tacos.
What is the American public's single greatest misconception about Mexican cuisine?
That it's all smothered in sour cream and melted cheese. That's
so
not the case.