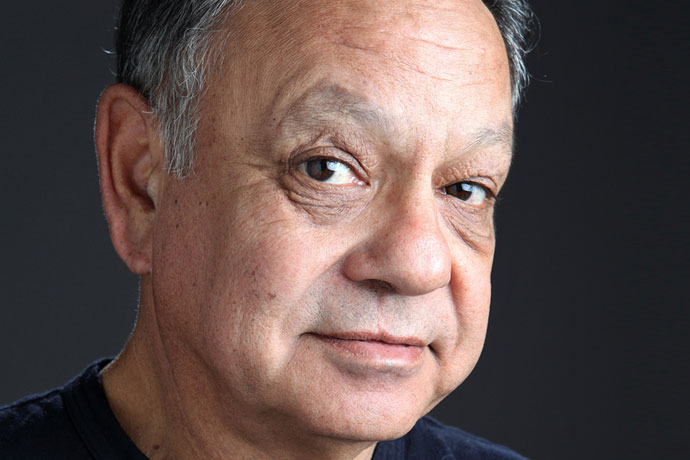 We recently reached a state of altered consciousness at the Pacific Palisades house of the legendary Cheech Marin. No, no "heavy duty" joints were consumed. Only tacos and booze. See, the legendary comedian is brand ambassador for a new mezcal called Tres Papalote. Whilst getting three sheets to the wind, surrounded by his extensive Chicano art collection, we got deep about love, music and socks. We also found he's a pretty cool guy to party with. Well, you probably assumed the latter.
Name:
Richard "Cheech" Marin.
Age:
69.
Occupation:
Writer, actor.
Known aliases:
@CheechMarinOfficial
on Instagram,
@CheechMarin
on Twitter and
CheechMarin
on Facebook.
What you're best known for:
Cheech & Chong.
How you became known for it:
Hard work.
What you wish you were known for:
Inventing the cure for cancer.
Last airport you visited:
Edmonton International, Alberta, Canada.
But if you could be anywhere right now, you'd be:
Costa Rica.
Daily must-reads:
Los Angeles Times
.
Favorite thing in your closet:
My cashmere coat.
Favorite movie:
A Hard Day's Night
with the Beatles.
Movie that's sat the longest in your Netflix queue:
Hmmm... How about
How to Quit Procrastinating
?
Favorite app, besides The Next Move:
Instagram.
Song that definitively describes your sex life:
"I'm Just a Love Machine" by the Miracles.
Drink of choice:
Koo Koo Man cocktail, made with Tres Papalote mezcal, of course.
Best night of your life:
My wedding to my lovely wife, Natasha. I've learned over the years.
Go-to hangover cure:
Menudo or posole.
Habit you wish you could quit:
Having a second helping.
Favorite expletive:
Fuck me!
Formative childhood memory:
Moving from South Central to Granada Hills. The Valley.
Idea for an invention that could change the world:
Machine that finds your other sock.
Your finest Halloween costume:
I was a beatnik when I was in eighth grade—I was so cool, daddy-o!
The Beatles or the Stones?
Absolutely, the Beatles.

Blizzard or heat wave?
Heat wave. Hey, I'm Latino.
Dawn or dusk?
Dusk.
Truth or dare?
Dare.
In the movie of your life, who should play your love interest?
My beautiful wife, Natasha, haha... I'm no fool!
Say your life is perfect. What's the one thing you're still/always missing?
My other sock.