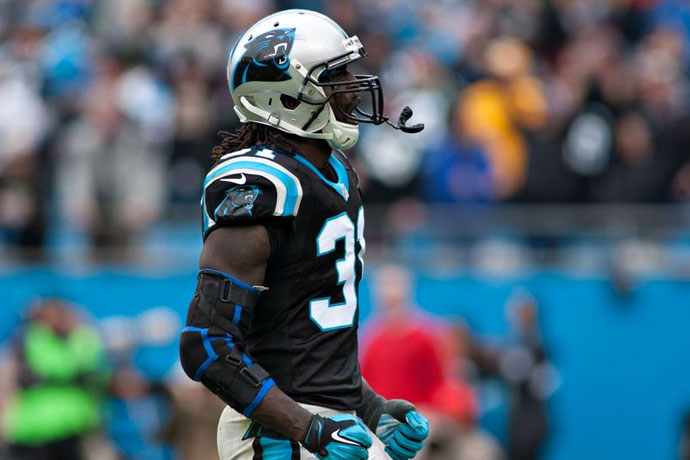 Charles Tillman. Chewbacca impersonator. Mexican ginger ale aficionado.
Sharknado 3
procrastinator. And cornerback for a little-known outfit called the Carolina Panthers. Though the former Chicago Bear helped take his team to Sunday's Super Bowl, a late-season ACL tear will have him cheering from the sidelines.
Perfect opportunity for us to sidle up next to the guy and learn about the things that keep him ticking and his eponymous foundation helping chronically ill families in need. Keeping it short and sweet, we welcomed Tillman to bare his soul with a little something we call UrbanDaddy's Person of Interest Questionnaire.
Name:
Charles Tillman.
Affiliation:
NFL.
Handles:
@peanuttillman on
Twitter
and
Instagram
.
What you're best known for:
Playing football, winning the Walter Payton NFL Man of the Year Award and being a good husband and father.
How you became known for it:
I started playing football when I was a child and haven't stopped since.
What you wish you were known for:
Ingenuity.
Last airport you visited:
San Francisco International.
But if you could be anywhere right now, you'd be:
There is no place else I'd rather be than in the Bay Area for the Super Bowl. But unfortunately I was injured at the end of the regular season, so I do wish that I could be out on the field with my teammates.
Favorite thing in your closet:
All of my Jordans.
Favorite movie:
Star Wars
—the complete anthology.
Movie that's idled the longest in your Netflix queue:
Sharknado 3
. But I will watch it in the next few weeks.
Favorite app/website:
Moment
, the coolest way for me to connect with my fans through personalized video messages, while at the same time raising money for my charity, the Charles Tillman Cornerstone Foundation.
Drink of choice:
Mexican Ginger Ale, which is two shots of dark tequila, equal parts Sprite and Coke, and three limes.
Best night of your life:
Family memories aside, I'll never forget what it felt like when I won the Walter Payton NFL Man of the Year Award two years ago.
Habit you wish you could quit:
Late-night Netflix.
Idea for an invention that could change the world:
Honestly, I think I just found one with Moment. I foresee politicians, musicians or even my local church using a charitable platform like this.
Your finest Halloween costume:
Chewbacca.
The Beatles or the Stones?
Beatles.
Blizzard or heat wave?
Heat wave.
Dawn or dusk?
Dawn.
Truth or dare?
Dare.
In the movie of your life, who should play your love interest?
J. Lo.
Say your life is perfect. What's the one thing you're still/always missing?
A Super Bowl ring.