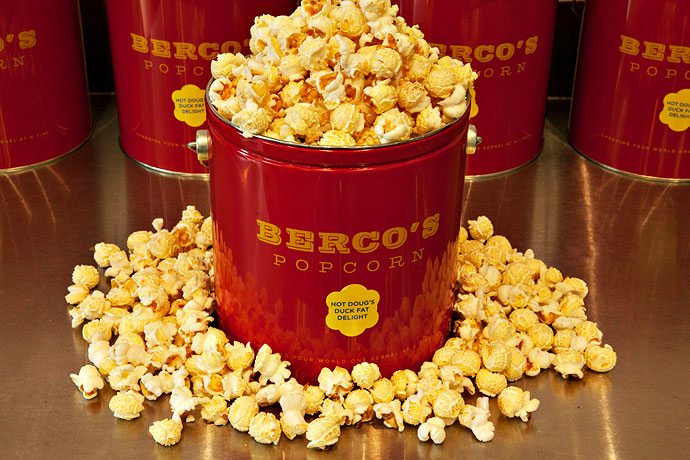 The Top Three Moments in Super Bowl History, brought to you by us:

3) Mr. Clutch's 48-yard field goal.

2) The David Tyree helmet catch.

1) That time you poured Hot Doug's popcorn into a bowl.

Here's how that last play went down...

It's the Saturday before Super Bowl 50, and you're still looking for the right snack to bring to your party (the right snack is everything).

You head over to Berco's Popcorn in Lincoln Park, step inside and browse. And then you see it: a big tin that bears a striking resemblance to the tin pictured above.

"What's that?" you ask.

"Our limited-edition Hot Doug's Duck Fat Delight," they say. "It's like his famous duck-fat fries, except all popcorn-y. And gruyère-y."

"Those words sound delicious."

Cut to: Super Bowl Sunday. Snack rations are low. People are growing restless. At halftime, you pour the contents of the tin into a bowl and place it on the coffee table.

A few curious guests take a scoop.

Then another.

"What is this glorious taste I'm tasting?" they garble between bites.

You tell them. The crowd goes wild.

And nobody even notices the Coldplay nip-slip.