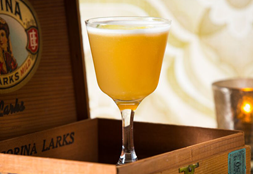 A promontory overlooking the Havana Harbor, circa the 1930s.
A svelte little lobby bar in Chicago called
Sparrow
, circa last week.
Those two places are very far from being the same place.
And yet... here's the Hotel Nacional, a flavorful libation flung across time and space to bind them together in rum-drinking revelry.
The drink—so named for the Cuban Prohibition-era refuge that bore it—has several variations, though Sparrow's adheres closely to the original. The result: a not-too-tart, not-too-sweet cocktail with enough pineapple (and booze) to make you forget, if only momentarily, about that whole winter thing...
Sh*t.
We remembered that whole winter thing.
Hotel Nacional
1 1/2 oz Plantation Pineapple Rum Stiggins' Fancy
1/4 oz Flor de Caña white rum
1/2 oz apricot liqueur
3/4 oz lime juice
1/2 oz pineapple gum syrup
1/2 oz pineapple juice
Shake with ice and strain into a footed rocks glass
.
Garnish with a lime wheel.