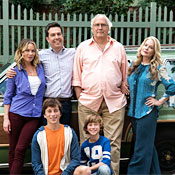 A OH VACAY
Hey, Look, It's the Griswolds
The family: The Griswolds.
Where you know them from: The Vacation reboot.
Why they're dysfunctional: Rusty and his discontented wife opt to take their two teenage children on a cross-country road trip to Walley World, when they obviously could've taken a plane.
Their Thanksgiving dinner would likely entail: Middlebrow humor; run-of-the-mill familial tension; below-average stuffing.