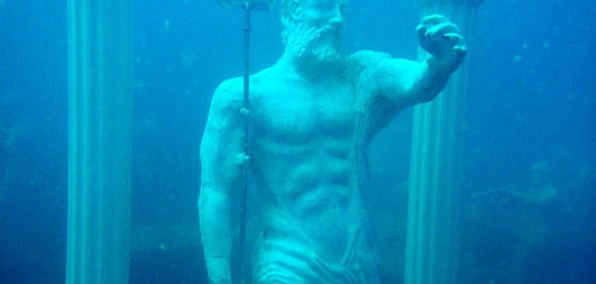 The Louvre. Sure, it's nice.
The Prado. The Guggenheim. The Art Institute. The Tate Modern.
Nice. Nice. Nice. And, yes, nice.
We're not here trying to take anything away from the great cultural institutions of the world.
But have you noticed that these places get really touchy when you try to explore their galleries wearing full scuba gear?
Finally, though, here's a place that doesn't. The
Side Underwater Museum
, Europe's first fully submerged hall of sculptures, which opened yesterday in Turkey.
Located just outside Manavgat in Side, a Mediterranean seaside town, the museum is dedicated to telling the story of Turkish history and culture. Certified divers will be able to explore 110 pieces of statuary—weighing up to five tons—all designed to be environmentally friendly and to foster coral life.
The themes of the museum include the Turkish War of Independence, Whirling Dervishes, Camel Trains, Flower Gardens and the Temple of Poseidon.
You knew Poseidon would factor into this somehow.