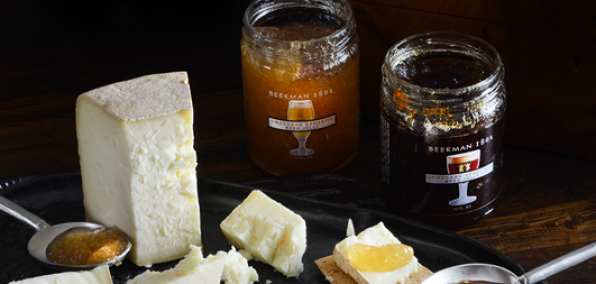 Lately we've been thinking a lot about Cooperstown.

You probably assume it's because of baseball.

But no.

It's because of beer jelly.

See, Ommegang Brewery—the Cooperstown-based makers of many fine beers—and Beekman 1802 Mercantile—the nearby purveyors of goat cheese, soaps and other miscellanea—have collaborated to make this most important of condiments.

And like many good things, it comes in threes.

Ommegang Hennepin Beer Jelly: Start with a refreshing farmhouse-style Belgian saison, and you get a golden jelly that's full of ginger, spice, orange and toasted grains.

Ommegang Abbey Ale Beer Jelly: This one's got sweet notes of honey, caramel and toffee, plus a hint of licorice and chocolate. Those are not your typical jelly tasting notes.

Ommegang Dark Ale Beer Jelly: The ale itself is brewed with lots of spices, including coriander, cardamom, mace and grains of paradise. So expect that to shine through here, too, in their most wintry of spreads.

There you have it. A trio of items to better your bagel or enhance your cheese board.

It's the best thing to happen to jelly since... well, fruit.