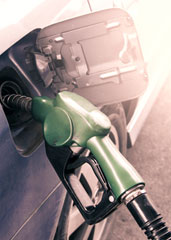 Gas elves.
They show up wherever you are and fill up your car when you're not looking.
They also don't exist.
But
Purple
does. It's a new app that dispatches human people to fill up your car while you do other, less boring stuff, and it's available now for iOS and Android.
This is just like full service. Only... fuller. Instead of hitting the pump while you're trying to get someplace in a hurry, you'll schedule gas deliveries with these guys through your phone. For whenever you want. And you won't even need to be in or around your vehicle.
You could be on a Tar Pits date. Or seeing something at a Laemmle. Or deep in the studio working on your creative reinterpretation of a Taylor Swift album. Whatever it is, all you need to do is open the app, schedule a delivery of your favorite gas within a one-to-three-hour time frame, then leave your gas tank unlocked. Someone will show up, fill your car, then disappear into the horizon. Dramatically, let's say.
Oh, and since they're still working on getting people signed up, there's currently no fee for delivery.
Good time to be people.