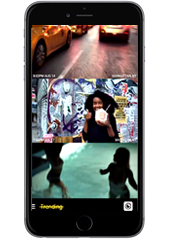 A husky wears a lobster costume in Downtown LA.
Many people sit cross-legged in a circle at Joshua Tree, staring blissfully at the rising sun.
Somewhere nearby, an all-day Bill Murray–themed birthday bash begins.
And all that at precisely 9:52am on a Wednesday.
To think... you'd never have known.
This, friends, is why there's
Panama
, an app that lets you see all the strange, wondrous things happening around you, via anonymous video. It's available now for iPhone and Android, and we challenge you to get Van Halen out of your head now.
Open the app. That's what you do. You'll see a feed that shows clips posted nearby. You'll see worlds of pop-up taco trucks by your office, shopping bags caught in shifting breezes and other things you don't need to see but somehow suddenly want to.
To make your own cinematic contribution, just press and hold the screen (up to 30 seconds) and point at a thing, and that'll post to your "Nearby" feed. You'll judge and be judged with up and down votes. And if you're in NYC, LA, Joshua Tree or, of course, the Arctic Circle right now, your posts will go straight to those feeds as well.
Yeah, the Arctic Circle still exists.