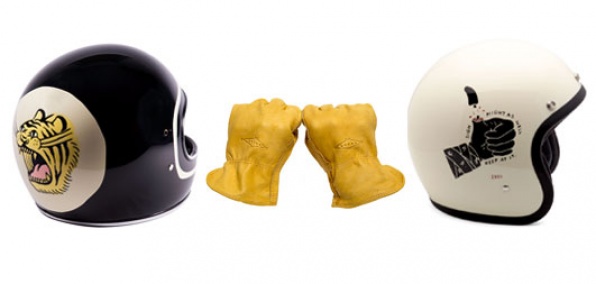 "Wear a helmet."

Good advice.

"Wear a helmet with a hand-painted tiger on the back."

Better advice.

Take it from Moto, a new collection of custom motorcycle helmets and leather riding gloves that would have received an enormous double thumbs-up from Evel Knievel, now available online.

They're currently making a mean sidecar bicycle as well, which you need to check out. But today, we're here to talk about what's going on your head and your hands while you're barreling down Route 1 with nothing but the open road in front of you.

Specifically:

—Yellow leather riding gloves with split suede palms that will form to the shape of your hand. Your hand's shape isn't appreciated nearly enough.

—Retro-looking helmets featuring custom paint jobs of predatory big cats or a severed thumb with the text "Sigh, Might As Well Keep At It." These helmets have permission to get weird.

—The Gringo, a helmet whose shield visor also makes it a viable Speed Racer Halloween costume.

You weren't expecting a Halloween costume in this email.