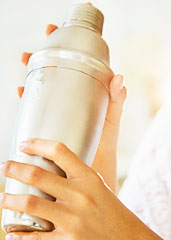 You're a really good bartender.
The way you press buttons.
And answer the door.
Great technique.
Line 'em up with
Instapour
, a new website where you'll order a specific cocktail, then all of its ingredients show up at your door, launching Monday in LA.
People are heading over to your place for drinks in a bit. You want those drinks to be good. You're not all that eager to squeeze 23 limes and you still haven't figured out where to buy orgeat. That's when you'll pick up your phone or laptop and go here.
Order something like the
Picasso Paloma
from their three preliminary drinks (more will appear soon). Enter your credit card info. Then find something to do for the next hour or so.
By the time you finish doing that thing, someone will be dropping off a 375 mL bottle of tequila, a fresh blend of fruit and bitters, a jar of garnishes and a shaker. Enough stuff for six drinks (hey, it's a start). You place ice and the liquids in the shaker and... you get it.
And if you enjoy what they're doing, you can start a subscription of sorts. That way you'll get different drinks matched to your tastes every week.
It's like a CSA you can believe in.