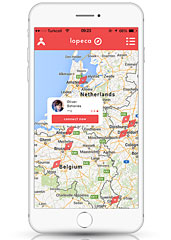 Fun fact: when someone used to want to go on a trip, they would call a stranger. These people were known as "travel agents."
Funner fact: when you're ready to go on a trip, you're also going to call a stranger. These people are called, well, actual strangers. Only difference is, they live exactly where you're thinking about going.
And in yet another improvement on the past, their phones have video.
So call up the
Lopeca
app, which introduces you to people who'll show you around the places they live via their phone's camera. It's now available for iPhone.
You've still got a few weeks left of summer. You could go somewhere. Edinburgh. Lisbon. Oslo. The Final Frontier. Wherever.
Hop on this app and start narrowing it down. Zoom in on the map. You'll see users who are happy to chat. Maybe even point their phones at things for you if they're in a good spot.
Once you've decided on a destination, you can mine users for local knowledge. Like whether September is sweater season in Scotland. Which fjord is fjord-iest in Norway. And where you get the best espresso in Portugal.
Maybe they know your eighth-grade pen pal, too.