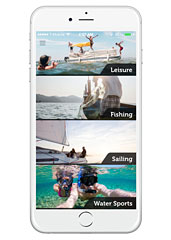 Analogy quiz for you today.
Boating : Miami ::
A) slushy mojitos : summer.
B) turn signals : non-locals.
C) It's Monday. This is ridiculous.
The answer is D, all of the above. And speaking of nautical stuff, here's
BoatDay
, an app that allows you to book space on a boat when and where you need one, now live in Florida and available for iPhone.
So a local guy created this app to help you and a boat make a meaningful connection on the water, albeit briefly. Mighty kind of him.
Anyway, this is how you'll use it:
1. Download the app.
2. Use search filters to look for different boat options. Think: fishing, water sports, rum-running.
3. Once you've found a seaworthy ship, book your spot.
4. If you're doing the group thing, you can reserve a few extra spaces or the entire boat. Also, everyone pays their own way via the app. Convenient.
5. The boat owner will confirm your booking and connect with you on a private chat wall to go over details.
6. Head out to your departure point.
7. Board the boat.
8. Do boat things.
9. Return boat.
10. Go home.
No, but really. You can go home now.