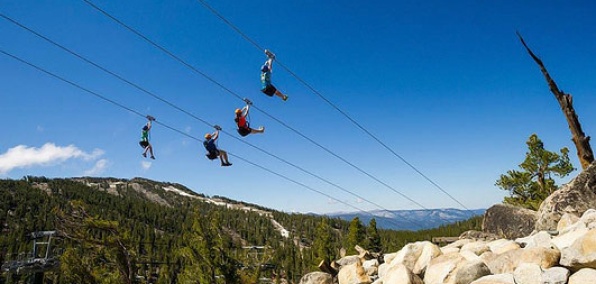 "There are many ways to catapult oneself down a mountain."
—Ancient Californian proverb

And... to that end, here's What's New at Heavenly, a shortlist of the resort's fledgling activities involving you flying around everywhere at great speeds. Most of it's open now.

So you make it to the top. Take a deep breath. Sing a little song about mountain air. Then...

You'll warm up on the Hot Shot Zip Line.
Which involves careening down 1,000 feet at 40 mph alongside three other people. So you can point at Pyramid Peak and mouth things like "Wow" and "Look."

Try the Blue Streak, too.
It opened last summer, but maybe you haven't taken in the views from a 3,300-foot zipline 160 feet in the air yet. Maybe you should get on that.

You could also shoot around in a tube.
There are now two lanes for experiencing that harrowing 65-foot vertical drop that occurs at some point along the course. You'll probably know when it happens.

Or try the rope courses.
Swinging logs. Nets. Ladders. Right, and ropes. Ropes are also on the rope courses.

And soon, there'll be a rock-climbing wall with a 35-foot emulated free fall.
Beers in the lodge are also an option.