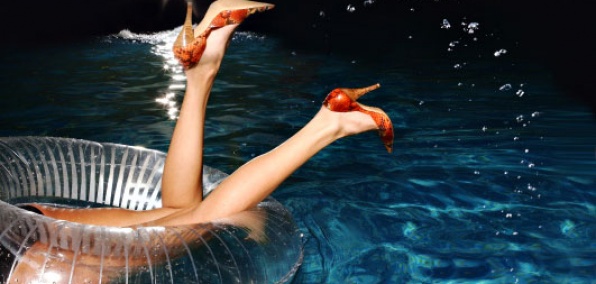 To the Swim Week that almost wasn't:
Yes, you may be down a sponsor or two, but in the end... we believed in you. And your bikinis. Your glorious, well-constructed bikinis.
After all, you just can't keep good latex down.
Time to celebrate. Starting with these five timely
Swim Week
soirees.
Blind Dragon Pop-Up at FDR
Remember the time you went to a pop-up of an Asian-inspired karaoke lounge from LA and masterfully duetted "Islands in the Stream" with that Wildfox model? Yeah, us neither. Because that's not happening until Thursday.
411:
Jul 16-18, 11pm,
FDR at Delano
, 1685 Collins Ave, Miami Beach, 305-924-4071
Style Saves Swim
You really should attend an actual runway show at some point this week. This one's a good candidate. Because a) it's at the Edition, and b) there's an open bar.
411:
Jul 17, 9pm-midnight, $175,
The Miami Beach Edition
, 2901 Collins Ave, Miami Beach, 786-257-4500
SPF at Nikki Beach
Your Sunday SPF agenda: beachside brunching. VanDutch yacht-touring. Agua Bendita model-watching. Lather. Rinse. Repeat.
411:
Jul 19, 11am-4pm,
Nikki Beach Miami Beach
, 1 Ocean Dr, Miami Beach, 305-538-1111
Sunday Soiree
There's nothing wrong with the sunglasses you're wearing. We're just saying that if you're looking to update them, doing it at this pop-up market at the SLS with gratis beer might not be such a bad thing.
411:
Jul 19, noon-6pm,
SLS South Beach
, 1701 Collins Ave, Miami Beach, 305-674-1701,
RSVP here

Bingo Night with Shelley Novak
Yes, you'll find the lovely Shelley Novak at the Standard hosting a special night of truth-or-dare bingo this Monday. Listen, it was this or pinochle.
411:
Jul 20, 8-11pm,
The Standard Spa, Miami Beach
, 40 Island Ave, Miami Beach, 305-673-1717