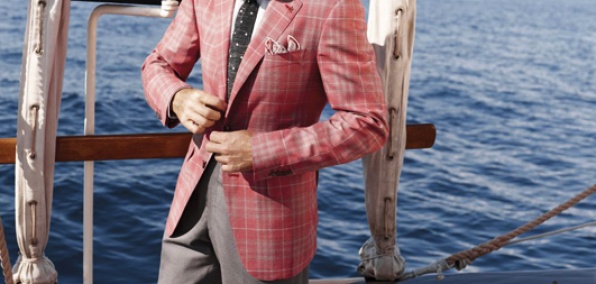 A made-to-measure suit should technically conform to your natural daily movements.

So it's completely reasonable for these guys to stick a Negroni in your hand to take your measurements.

Talk with your hands all the way to Isaia, a triple-level haberdashery filled with shirts, suits and other wearable forms of handmade Neapolitan handsomeness, now open in Beverly Hills.

Because this matters in LA, gentlemen like Hugh Jackman and George Clooney speak highly of this operation, an Italian family enterprise dating back to the '20s. And now, a Beverly Hills store, the first in the US, and a new reason you should contemplate:

A red, canvas-lined windowpane sport coat. Respectably red, of course.

Batik swim trunks and a light cotton polo. Staying seasonal here.

Leather-soled, Goodyear-constructed loafers. Tassels at your discretion.

A light-blue, double-breasted linen blazer. Works in Naples, works at Mozza.

Super-touchable cashmere. Lots of that.

A red-leather-trimmed, white motorcycle helmet with a scrawled San Gennaro portrait on it. Vespa sold separately.

A made-to-measure gray Dormeuil wool suit. Plans are laid out on a red piano on the second floor. Naturally.

The Negroni bar: that's in the discreet consultation room behind closed doors on the third floor.

Oh, now you need that belt.