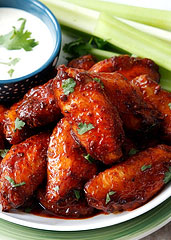 Just act cool and do what we're about to tell you.
Put this number in your phone: 312-275-2349.
Now enter
Wang Thang
as the contact.
Then... forget about it. Go about your day. We never had this conversation.
But tomorrow, when you're itching for a little something to get you through the day, you're all set for a profound chicken wing experience.
Because, yes, texting for wings is now happening. It's ingenious. It's easy. It's... texting for wings. Because two guys with some culinary talent and online skills are launching a beta version of that very thing.
Your first text prompts you to a site where you'll sign up and pop in some info. From then on, you just text them how many wings you would like dispatched to your location. Then, in a reasonably short amount of time, you'll be engaged in some buffalo-style wing-eating activity.
Caveats and Disclaimers:
1) It's available from 11am to 2pm, Tuesday through Friday, during the launch.
2 ) West Loop delivery only for now, but they'll give you an address if you want to pick them up instead.
3) You could always call that number instead of texting it, too.
The way your forefathers ordered chicken wings.