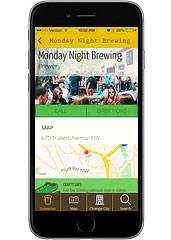 Summer is full of tough questions.
"Should we go to the pool?"
"Tennis or table tennis?"
"Where's the closest dog-friendly brewery that's showing baseball?"
Answering the tough questions but especially that last one is
Craft Crawler
, a new beer-forward, Atlanta-based app that locates independent breweries anywhere in the country so you can go to them, now available for iPhone.
This is how you're about to find all those wondrous places that make beer, serve beer and may or may not have other highly coveted beer-related amenities.
For starters, you're working with a list of featured breweries like Frothy Beard in Charleston and Fat Bottom in Nashville. It lists details on the types of beer served and whether or not they have things like food or patios or TVs or lawn games.
You'll log on and choose your current location or another city. Then you'll have access to a huge roster of breweries and their exact distances from you. Every state is listed. Even Hawaii and Alaska. Just FYI for your next layover in Kodiak.
And there's a corresponding website with a running list of upcoming featured events and beer festivals around the country.
Pretty sure destination breweries just happened.