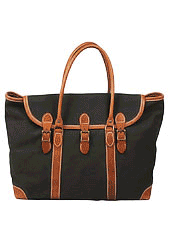 Hey, we were just talking about you.
Well, road trip bags, actually.
But you were involved.
Here with the tie-in assist is
Leather Cottage
, a new lineup of well-made bags that were born to hold your things and make you look nice, now available online.
These comely travel facilitators are made from leather, denim and either waxed or regular Fairfield Textile canvas, and they'll soon be accompanying you to the lake and long weekend trips to the Gulf.
We're fairly certain that each will be directly correlated with some unexpected excesses in your life.
The three standouts below shall now provide scientific proof:
Waxed Olive Commuter
Wise choice. Insert a few T-shirts, a newspaper in the exterior newspaper pocket and some jerky in one of the three interior patch pockets. They're your jerky pockets.
Westside Rucksack
Spot on for those Piedmont Park picnics and other well-alliterated Sunday afternoon voyages. The leather base will safely cradle the wine, while the interior pocket will cradle the brie. The crackers can hold their own.
Joshua Tree Weekender
It's a larger bag for holding all your last-minute-coastal-road-trip necessities—swim trunks, cigars, some Cormac McCarthy and a bottle of gin in case they don't have gin at the beach.
That's the worst.