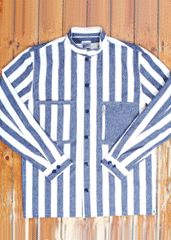 Soaring temperatures. Humidity. Patios. Hot sauce. Amateur parkour.
Lots of things working against your sweat glands this summer.
These should help.
The things from
Up There
, a Melbourne-based garment slinger that's just launched their own label with a bunch of breathable, classic shirts and pants that you can wear well into fall, available online now.
Everything is 100% cotton and made in Japan, and will soon be worn while you're enjoying various rooftop cocktails and Hawks championship parties. Believe.
Maybe revisit the Alpine parkas and Ace crewneck sweatshirts in the fall. As for now, you'll find solace in a healthy mix of oxford, chambray and twill work shirts. And chinos. And other items.
Let's go ahead and get into a few summer situations:
The Ryan gray T-shirt:
for bocce-forward afternoons in the park.
The Johnny olive twill pants:
for cuff-rolling at Music Midtown.
The Raskal charcoal stripe shirt:
for having a shirt with stripes and no collar. And for mastering that tugboat-captain look at the lake.
The Raskal blue patchwork shirt:
for when you need to say the word "Raskal" again.
Happens.