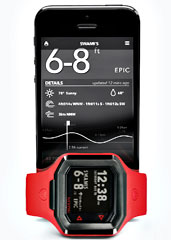 If you don't like reading about incredible new watches, well, this has been a tough month for you.
And it just got worse.
Because here comes
Ultratide
, a new timepiece that's like having a little Laird Hamilton on your wrist, in that it will give you surf conditions on some 2,700 beaches in the world, now available online.
This comes from Nixon and Surfline, who are geniuses when it comes to forecasting weather and waves. It's also the world's first watch that delivers real-time surf conditions to you via Bluetooth. Pretty exciting.
So let's say you want to go surfing. Perfectly reasonable goal. You'll download the app. (It's available for iPhone right now.) Then you'll see what your watch is saying about the current situations at your favorite beaches—everything from wave height and swell direction to wind speed and water temperature. Then... you'll choose a beach and go surfing. Simple.
But you can also tell this thing your favorite conditions for riding waves, and when one of up to 10 surf spots meets your exacting specifications, you'll receive an alert. By way of a telegram.
Kidding. It'll start beeping.