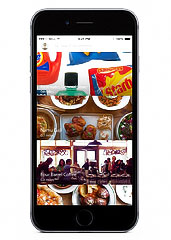 Future things on your future desk:
—Pens
—Computer
—Double ShackBurger
—Super Soaker
—Dream journal
Future you just had three of those delivered.
This fictional yet perfectly plausible scenario brought to you by
Postmates
, the new-to-Atlanta delivery app that will bring you pretty much anything you want, whenever you want, now available for iPhone and Android.
There really aren't many boundaries here. First, ask for something. Then a person retrieves your bounty and makes their car go to you. It's good. It's a really good thing.
You can log in to the app and choose from some featured stuff like a pizza from Antico or a full rack from Fat Matt's. Which... yeah, pretty great. Or you could choose a custom order at the bottom and request something ridiculous.
Picture this: it's 1am and a Steven Seagal marathon just started. You grab your phone, then request a couple lattes, some lamb-and-chickpea chili from Cypress Street and a black wig with built-in ponytail.
No one asks questions, they just bring it. And they'll always just bring it.
Although maybe they should ask a few questions.