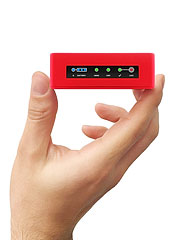 Anyone can shoot video. Like that guy at last week's concert who blocked your view with his phone for an hour.
Anyone at all.
What anyone can't do: livestream that same video. Because not just anyone has this thing...
This is the
Broadcaster Mini
, a tiny little box that sits atop any HDMI-equipped video camera and instantly streams whatever you happen to be shooting, available now.
Pretty simple, this thing. You mount it on top of and plug it into your camera. Then call up the accompanying app, which acts like a remote control to help you get a connection from the built-in wi-fi and edit your shots.
Then, boom, you're streaming in 1080p HD to anyone with a smartphone, tablet or Roku box. Easy to see where this would be useful:
—You're at a Caps playoff game. Your friend doesn't have a ticket. Or cable. (He's one of those.) Now, he's watching the game. And you're ducking the usher.
—You're in your living room. So are the members of REO Speedwagon. You think: "The world really needs to see this." They agree.
—You decide to compete with C-SPAN and host your own coverage of the White House Correspondents' Dinner.
You really showed C-SPAN right there.