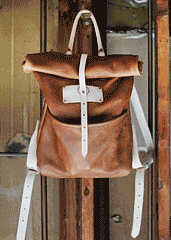 Some things are better left unsaid.
But then you run the risk of not hearing important things.
Like where to get kimchi and Italian-leather shoes under one roof.
And other attention-grabbing combinations.
Bringing it all together is the
In Good Company Pop-Up
, a weeklong event starring local things that you'll enjoy eating, drinking and wearing. It's happening Monday through Saturday in Poncey-Highland.
Within the very large, very open, very brick-column-filled space will be a gathering of people who have made you many nice things. Go there. Be with them. They are now your people.
And here is your highlight reel:
—
Cobbler Union.
You'll be introduced to many handcrafted shoes from Spain. And then you'll wonder when you last enjoyed an introduction this much.
—
Oakleaf & Acorn.
Little bit of everything in here. Antique knives, raw denim, delightful conversation, beef jerky... everything. Well, most things.
—
Flordeliza.
They make leather stuff like wallets and folios and rucksacks. Which you'll need for carrying your antique knives and beef jerky.
—
Simply Seoul Kitchen.
Should you grow hungry or thirsty in your scavenging, you will also find enticing steamed bun sustenance and cold beers from Terrapin.
There should be 51 other weeks just like this.