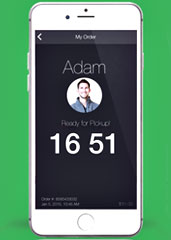 And lo, the venerable St. Patrick drove the snakes from Ireland and commanded that everyone celebrate with the finest green-dyed beer in all the land...
... thereby creating a b*tch of a line that people from the fifth century are still waiting in.
Righting that egregious oversight:
SpeedETab
. It's a new app that lets you buy drinks at your favorite bar or lounge from the comfort of your iPhone. And it's available now in Miami.
Great timing for this thing, seeing as how it might get a bit crazy out there tonight.
And it's pretty simple. You click on the app and a list of nearby bars and lounges will pop up. You'll check into your drinking establishment of choice and a menu will appear showing you what's available and on special. So while the masses are doing the standing-in-line-for-Irish-car-bombs thing, you'll just discreetly place your order for a gin and tonic directly to the barkeep via your iPhone.
Once you order, it goes to an iPad at the bar that shows the bartender your name, photo and drink. As soon as your order's ready, you'll receive a notification with a code. You'll then proceed to walk right past the line at the bar and get on with the important business of consuming your gin.
Tomorrow morning, you're on your own.