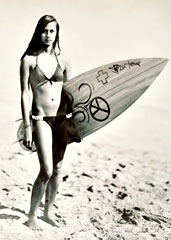 "Send help."
—Your coffee table
Give it what it needs with
Joni Sternbach: Surf Site Tin Type
, the greatest book of surfing photos taken with Civil War–era technology that ever was, available online now.
That's right, surfing and the American Civil War in the same sentence. You look like you could use an explanation.
Here goes: this is the work of a woman named Joni Sternbach (you may recognize her as the person in italics up there), who traveled to earth's greatest surfing haunts from Montauk to Australia in order to photograph surfers using a 19th-century process called tintype, giant boxy camera and all.
Basically, that means all the photos look old-timey and kind of mysterious. But instead of an unsmiling Abe Lincoln, you're getting photos of bikini-clad surf Valkyries beside their boards. Or beautiful, foreign beach landscapes. Or a woman dressed as a mermaid lying on a beautiful, foreign beach landscape.
So you procure it. You look it over. You decide to make this the summer you finally take up surfing and practicing 19th-century photography methods.
Funny how those don't go together at all.