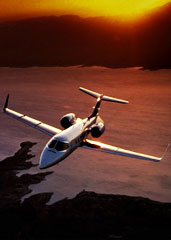 So what's the deal with airline food?
No. There's got to be a better way to intro this.
...
Forget it. No time to waste anyway. Cut to
Beacon
, a new service that grants you unlimited travel around the Northeast by private plane, offering memberships now and launching in June.
We will answer your questions in a timely manner.
Q:
What's the catch?
A:
You're sharing these jets with a closed membership pool of 500 people. And you can only book four flights at once. But once you've flown those flights, you can immediately book more. So... no catch.
Q:
So it's like DVD-era Netflix for jets?
A:
We weren't going to go there, but sure.
Q:
What kind of planes are we talking about here?
A:
Six- to eight-seaters, mostly.
Q:
Will the captain give me plastic wings?
A:
You're too old.
Q:
What are its fly routes?
A:
Boston, New York City, the Hamptons and Nantucket. Not inconvenient.
Q:
Anything else I should know?
A:
They'll have concierges waiting at your departure and arrival terminals. And they take requests. Like parking your car or bringing a rental.
Q:
Could they bring me flowers and champagne?
A:
Yeah.
Q:
Wait, who am I?
A:
We're not sure.