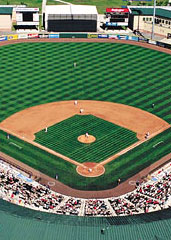 Spring training.
It's here.
And we sincerely hope your pitching arm is up to snuff.
Warm up the rotator cuff for your
Day at the Stadium Diamond Package
, a spring-training-friendly getaway that grants you Marlins pitching privileges, available now through April 2 at the Jupiter Beach Resort & Spa.
If you're not already familiar with Roger Dean Stadium, it's where the Marlins players converge for spring training. Although that last part's about to slightly change... to include you.
So, first things first. You're going to need a place to stay. For that, you'll turn to the Jupiter Beach Resort & Spa. They'll be facilitating your sojourn with a balcony suite and some beachfront rum runners. Not a bad setup.
But back to the business at hand. Namely, showing Mike Redmond your fastball. You'll arrive at the stadium in the morning and be given a tour of the clubhouse and the 110-acre sports complex.
Then, it's on to batting practice. And watching/giving spirited pointers to the pros out on the field.
Finally, the ceremonial first pitch. You'll take the mound, join the crowd in the national anthem and get ready to throw.
Just don't channel 50 Cent.