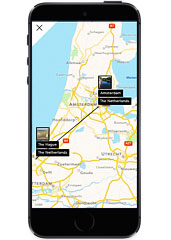 Apparently it's going to be in the 70s this week.
Great weather for randomly sharing pictures with strangers from all around the world.
So... here's
Tworlds
, a new photo-sharing app that anonymously pairs your pictures with similar ones, that very second, from somewhere else in the world, now available for iPhone.
It's the words "two" and "worlds" combined, which is a sneaky way of describing itself to you. It's also something you already figured out.
And how it works is you'll take a picture, apply one of the 26 provided hashtags and immediately see yours alongside another similarly tagged image from a complete stranger.
Example: you take a picture of your dog. Or whichever non-human you've chosen to cohabitate with. Then, you select #pet. Immediately, your pet is pictured beside another pet. From Berlin. It's a cat. You throw your phone across the room and try again later.
We mentioned it was anonymous, right?