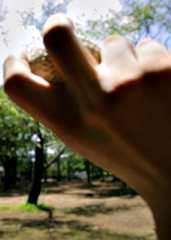 No matter how happy you might be that it's Friday...
That's about 1/1,000th as happy as a dog getting scratched behind the ears.
Well, if nothing else, you could be the one doing the scratching.
Meet
Dogo
—a pretty great new site that lets you take a shelter dog to hang out just for an afternoon because just look at that face. It's now online.
Yeah, dogs at shelters need homes, and shelters need volunteers. But maybe you're full up on dogs at your place, or now's not a good time because you're working 80-hour weeks or about to travel to Fiji for six months or something. No pressure. Because just taking a dog to the park on a Saturday helps, too. Dogs like parks.
Step one: two-hour orientation at Family Dog Rescue.
Step two: meet up with the Dogo founder. Her name's Danielle, and she'd like to hang out with you and a dog for a while, just to confirm that you are not breathtakingly insane.
Then you're good.
Just keep their online calendar handy, and whenever throwing a ball to a dog in a park while some sunlight hits your shoulders sounds like a non-terrible idea, book a time slot and go.
It'll be like prehistoric Tinder.