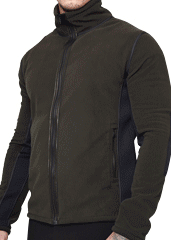 Yesterday's forecast: cold.
Tomorrow's forecast: still cold.
Sorry...
Actually, we're not sorry. Actually, you're welcome.
Because we've just given you two more reasons to don something from
Aztech Mountain
, a rather aesthetically pleasing new selection of ski and après-ski gear that makes down jackets and Italian jersey pants and you look better, available online now.
It all started with a guy who grew up in Aspen and went off to work for Marc Jacobs. It all ended with a bunch of snow-appropriate outerwear made in Italy's finest factories using technologically advanced fabrics.
Translation: draping yourself with such finery bodes well.
And on the off chance you need a little inspiration, here are a handful of scenarios paired with a handful of items to give you a better feel for how you'll deploy them...
On the slopes/on a coffee run:
The motorcycle-inspired trekking pants, which are tapered at the bottom and don't look not-great.
Hiking up a mountain/hiking up some stairs:
The reversible nylon-to-fleece crossover jacket.
Building a fire/building cocktails by the fire:
The four-way-stretch, waterproof wool stealth vest.
Stealth vests. You really don't wear enough stealth vests.